How to Protect Ebooks from Sharing & Copying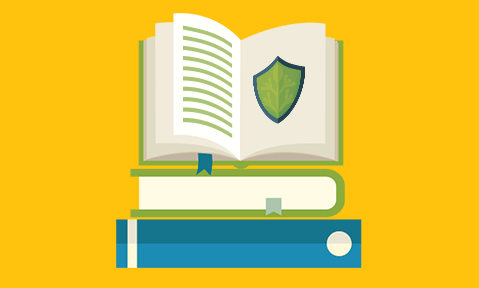 Ebook copy protection: securely sell ebooks – protect from copying, sharing, piracy.
How to stop ebook copying, sharing and theft.  Why copyright and popular DRM formats are not effective ways to prevent piracy and protect revenue.

While the doomsday scenarios of ebooks eradicating paper ones hasn't yet panned out, the format still shifts hundreds of millions of units per year in the US market alone. Particularly popular among young, tech-savvy users, though, this rapidly growing industry faces a major challenge — piracy.
Unlike physical books, ebooks can be duplicated easily and infinitely with no loss in quality and no cost to the end-user.  This spells disaster for publishers and authors, who can miss out on sales and therefore royalties as a result.  Today, we're going to talk a bit about how to protect an ebook from piracy, ebook copyright, and which DRM system is best for you.  Let's start with an important question about ebooks and copyright:
  Are ebooks protected from copyright?
There's a myth among some self-published authors that providing their work in an online format affects its copyright. In reality, creative works such as ebooks are granted copyright protection from the moment they're created.  It doesn't matter whether your material is in physical form, provided as an ebook, or never leaves your personal PC — its rights are yours.
In most countries across the world, you don't even need to register your work with a relevant copyright authority for these protections to apply.  Doing so, however, does help to create a paper trail if you want to seek damages in the future.
Unfortunately, having the law at your back probably won't stop people from distributing your work without your permission.  It can also be time consuming and costly to enforce copyright if you pursue the legal route.  As a result, you should take reasonable steps to protect your ebook from piracy.
  How do I protect my ebook from being copied?
So, if the law isn't enough to protect an ebook from piracy, what is?  As well as registering your book with a relevant country's copyright agency, you should consider ebook DRM.
There are several major ebook DRM companies that you've probably heard of.  Kindle, Google, Apple, and Adobe are the major players, but you may also recognise Barnes & Noble and Kobo.  All of these limit what users can do with their ebooks in one way or another and promise piracy protection in return.
Unfortunately though, all of these DRM protection systems can be removed by a non-technical user with minimal effort.  A free ebook management tool called Calibre strips most of them with a few button presses, and a program called epubor can remove even more.  Protecting an ebook with a password isn't a solution, either, as it can either be stripped easily or decrypted with the legitimate password and shared with others.
The short answer to how to protect an ebook from sharing, then, is to look outside of the big-name DRM providers. Their DRM is designed more for convenient integration with their platforms and devices than any real security.  You'll be much better served with a tool like Locklizard, which is specifically designed to provide strong copy protection for ebooks in PDF format.
To illustrate this point, we'll be showing you how easy it is to remove DRM from an ePub DRM protected book with Adobe, and then how to copy protect your ebook from piracy with Locklizard.
  Removing Adobe Digital Editions DRM
The DRM from all of the major ebook providers is trivial to remove.  With Epubor, which provides a free trial for all users, it's a single-click affair.  After clicking the link to import your Adobe Digital Editions ebook, it will be automatically detected by Epubor.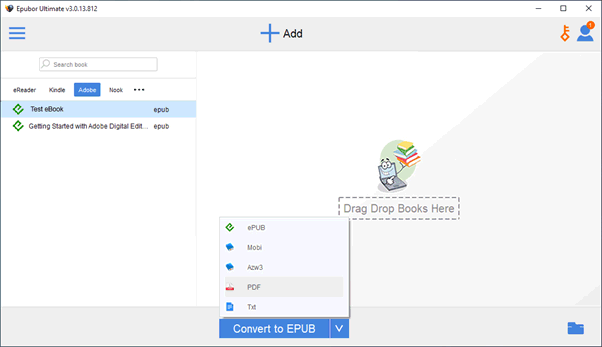 This is because although Digital Editions ebooks are protected, they're still saved in the user's documents folder. Epubor searches the documents folder for ebooks and allows users to click "Convert to epub" or select another format from the dropdown menu to strip any DRM.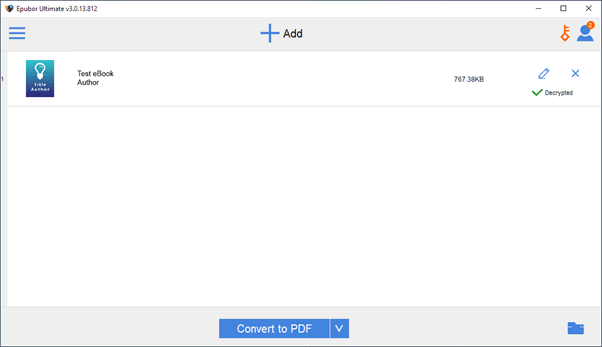 After a second or two, the encrypted book is provided to the user to do with what they want.  Remember, too, that the process is this easy for any of the major DRM providers — not just Adobe.  It could just as easily be Amazon, Google, Kobo, or others.
  Removing ebook DRM
You've now seen how easy it is to remove DRM from the major ebook providers.  Though they look secure from the outside, all it really takes is a PC and a few clicks to completely remove any security.  Once the DRM is stripped, the user can do whatever they like with the ebook.  They can convert it into dozens of formats, edit it, ignore library loan periods, or upload it to a file sharing website to share with thousands of people.
As a result, it's vital that whatever ebook DRM solution you use cannot have its copy protection stripped.  It takes one user performing the above process for free versions of your ebook to be a Google search away.
  Secure one time download links
We should also mention that there are other ebook copy protection systems out there that promise to protect ebooks from piracy using encryption but not DRM.  These use one-time temporary download links and password encryption to achieve this.  However, they provide little in the way of protection:
One time download links: once a user has downloaded your ebook they can then share it with whoever they want.
Password protected ebooks: passwords can be shared with others or easily removed using password recovery or removal tools.

Using the Prevent Direct Access plugin in WordPress to prevent PDF download.
So, while these solutions may advertise themselves as a secure way to sell your ebooks, they are anything but – they provide no more protection than setting up a password protected area on your website.
  How to protect ebooks from sharing with Locklizard
Locklizard provides far stronger ebook copy protection than the major providers through the combination of US government strength encryption, license files, DRM controls and a secure viewer application.


We also provide a wider range of DRM controls than the typical solutions, letting ebook Publishers utilize the following features:
Protects ebooks from sharing: ebooks are locked to authorized users devices so they cannot be shared with others.
Copy protection: prevent copying and pasting, screenshots, and other forms of duplication.
Print blocking: purchasing a digital version of a book doesn't necessarily entitle the user to a physical copy.  You can disable printing so users can't simply print out your ebook and share it with others.
Dynamic watermarks: if you want to allow printing you can have user identifiable information displayed when the ebook is printed to discourage sharing of printouts.
Offline use: when users purchase an ebook, they expect to be able to read it wherever they like.  You can allow permanent offline use while still maintaining all protection functionality.
Location locking: often, a publisher wants to make sure an ebook can't be viewed in a country it wasn't published in.  You have the option to lock your ebook to specific countries and locations to ensure this remains the case.
Expiry: if you want to provide access to an ebook for a limited amount of time for less cost, you can make it expire on a set date or after a number of days, views or prints.
Revoking access: should a chargeback be made you can instantly revoke access to your ebooks on an individual user basis.
Secure ebook distribution: Locklizard protected ebooks cannot be opened or converted in Epubor or other DRM removal tools so you can upload them to your web site or distribute them just like any other file.  Regardless of who downloads them, only authorized users will be able to open and view them.
These features and controls allow ebook publishers to effectively protect their content from copyright infringement and prevent piracy in a wide variety of circumstances.
  Creating a DRM protected ebook with Safeguard PDF Security
With the benefits covered, here's how to create a DRM protected ebook (PDF) with Locklizard to prevent it from being copied and shared.
Right-click on an ebook on your computer and select 'Make Secure PDF'.


Creating a DRM protected ebook

Select the copy protection controls you want to apply.

In particular, publishers will want to look at disabling printing (the default) and potentially limiting the amount of time a customer can view an ebook before it expires.  Note that copying, editing and screen grabbing content is automatically prevented without you having to select any options.

Adding DRM controls to an ebook using Locklizard Safeguard PDF DRM

Apply any relevant expiry and validity controls.

Libraires wanting to enforce controlled digital lending, for example, will want to make their documents expire after the loan period finishes.  You should also choose your method to verify the user still has access to the document – whether a check is run each time the document is opened, every x days, or only when an Internet connection is available.  This is something you'll want to consider carefully, as users expect access to their ebook indefinitely and not always be online.  By always forcing verification however you can instantly revoke access if required.

Press the Publish button to protect your ebook.

It will take a few seconds to protect the ebook, after which the encrypted ebook will be saved to your chosen destination.

You can optionally choose to protect it for viewing online in a secure web viewer (so you don't have to distribute it manually), or protect to USB (so users can view ebooks from a USB stick without installing a Viewer).

Select the users you want to give access to your protected ebooks using the cloud-based Admin System:


Safeguard Admin System

Then distribute your DRM protected ebook just like any other file – upload it to your website, email it, etc.  It does not matter who downloads it since the ebook is encrypted and can only be opened by authorized users.
As long as the customer has the Locklizard secure viewer application installed and their license file activated, they'll be able to access the DRM protected ebook.  Of course, you can add any additional customers as you get them.

If you're processing large volumes of customers and ebooks, you can additionally use our ecommerce API to automate the process.
  What's the best way to protect an ebook from piracy?
Publishers and authors lose millions of dollars every year from ebook piracy.  Though most utilise the most common DRM copy protection solutions from Adobe, Google, Apple, and Amazon, it's clear that it's not working.
As we've demonstrated today, it's really easy to remove DRM protection from an ebook – taking less than 30 seconds.  The best way to protect an ebook from piracy, therefore, is to move outside of the biggest providers.
By converting your ebooks to the most popular document format, PDF, and using an ebook DRM solution like Locklizard, you ensure that it stays protected from even the most technical users.  Though purchasing a separate DRM solution isn't for everyone, for most it will quickly outlive its value by protecting your valuable IPR and ensuring that your sales aren't siphoned away.  It will also give you the freedom to sell your ebooks securely from your own website without incurring additional royalty fees for using someone else's platform.
If you want to protect ebooks from sharing, copying & piracy when selling online then take a free 15 day trial of our ebook encryption software.