Restrict PDF Files
Restrict PDF Access: stop sharing, control document use
   DID YOU KNOW?
Why you should NOT use passwords to restict PDF access and use
users can share passwords and thus 'protected' PDFs with others
passwords are easily removed with password recovery software
Adobe PDF permissions (stop copy, print etc.) can be removed without using any tools
once the user has the password they can unprotect the PDF and do what they like with it
"We purchased Safeguard PDF Security to secure PDF files and control access and un-authorised use.
We now have greater control on who/how our material is accessed when distributed around the world, including limiting the number of prints and using expiry controls to manage subscriptions.
We would recommend Locklizard to other companies.
Safeguard PDF Security does what it says – it provides a manageable, cost effective uncomplicated way to secure PDF documents, your investment."

Restricting PDF use in Safeguard Secure PDF Writer
To restrict PDF use
Select your PDF files, then in Safeguard Secure PDF Writer, choose the PDF restrictions:
Stop printing, allow printing or limit the number of prints.
Add dynamic watermarks to viewed and or printed pages.  Dynamic variables replace actual user and system data when the document is viewed/printed so you only have to protect the document once for all users.
Make the PDF expire on a specific date, after a number of views, after a number of prints, or after a number of days from opening.
Stop screen grabbing (even from remote connections) applications.
Log PDF views and prints to see if your documents are being misused.
Safeguard's default protection to restrict PDF use
Stops users editing, copying and pasting content
Locks PDF files to specific devices so they cannot be shared
You can revoke PDFs at any time regardless of where they reside
There are no passwords for users to enter, manage, or remove
Restricting PDF access in the Safeguard Admin System
To restrict PDF access
In the Safeguard Administration system you can:
Select a user and choose the PDF files they can access
Select a PDF(s) and choose the users who can access it
Make PDFs expire at different times for each user
Have different printing rights for each user – i.e. grant printing to some users but not others
Control how many devices each user can view your protected PDFs on
Restricting PDF access to locations
Optionally lock users to locations – i.e. a country, workplace, etc. – so they cannot use protected PDF files outside this location.  For example, you may want users to view protected PDFs on their mobile devices in the office but not at home.
PDF Restriction overview: restrict PDF file access, restrict PDF use & control document print usage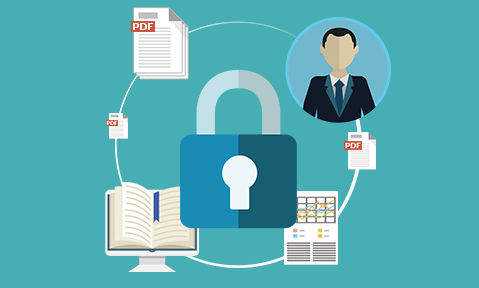 How to restrict PDF access & control use
Restricting access to PDF files and controlling use is simple and secure with Safeguard PDF Security.  There are no passwords to manage or for users to enter.
Unlike useless Adobe permissions which can easily be removed in seconds, Safeguard PDF restrictions cannot be removed and are enforced regardless of where your PDFs reside.
PDF Restrictions – A History
The original PDF restriction controls (provided to restrict PDF use) were designed before many of the PDF generation software we use today were in their infancy, and many did not exist at all.  And that is why the ability to restrict PDF use has become more sophisticated over time.
Domestic printing systems were often a dot matrix printer (remember those?) where high quality was not an option, nor was colour or graphics.  The focus was not on how to restrict PDF printing but getting it to work with all the emerging printing technologies.  And laser printers were expensive in every sense for many years.
But all that has changed.  Today making a high quality printed copy of a PDF document is trivial, and every PC has a key on it so you can get screen copies at the touch of a button.
So the ability to restrict PDF use has become increasingly important over time.
Adobe Acrobat and similar PDF Writer applications enable you to restrict PDF access, preventing only authorized individuals opening password protected PDF documents and restrict PDF use by applying a limited number of permissions (Printing, editing, copying content, extracting pages, filling in forms.).  However, PDF restriction controls can be simply removed using freely available PDF password recovery programs, bypassed on a Mac, and removed using Google Drive.  See removing PDF passwords.
PDF Restrictions – What do they do?
When we talk about the ability to restrict PDF, what are we actually talking about?  Here we describe the various levels to restrict PDF access and use.
Preventing access.  Preventing people from accessing a PDF document when they are not authorized to do so is achieved using encryption.  A user must have a key to decrypt the PDF and use it.  Commonly passwords have been used to restrict PDF access but they have many weaknesses which including managability and security – see removing PDF passwords.
Stopping sharing.  Restricting authorized users from making copies of PDF files which they can then distribute.  This can be achieved by locking documents to devices so that when copied to another device they will not open.
Stopping or limiting printing.  Controlling the ability to make printed copies (which could be scanned or photocopied).  Sometimes printing has to be allowed for operational reasons, but then you may need to add watermarks to the print-out, either to make it difficult to scan or photocopy successfully, or to associate the name of the authorized user so that it is clear where the copy came from.  See prevent printing.
Stopping screen grabbing.  Although users can take photos of anything visible on a screen, preventing screen grabbing stops them taking high-quality screenshots – see stop screen grabbing.  You might also add watermarks to PDFs to discourage the ability of someone taking photographs of the screen images (perhaps with their mobile phone).
PDF Expiry.  Having PDFs expire on a fixed date, after a number of days use, views or prints, enables you to restrict PDF use to a limited amount of time.  This may be important for documents that have a shelf life or to comply with regulations.  See PDF Expiry.
Revoking access.  It is important to be able to revoke both PDF documents and users.  For example, a user may leave your company and so you would likely want to revoke all their access, whereas you may want to revoke access to specific documents for existing employees.  See revoking document access.
Locking use to locations.  Restricting PDF use to locations is important when considering BYOD since users will otherwise have the freedom to use confidential documents in unsuitable environments.
In conclusion, there are many reasons why you would need to restrict PDF access and use, but you need to make sure you use a PDF security program that:
provides effective controls
enforces those controls regardless of where PDFs are located
prevents controls being easily removed by third party applications
   Download PDF restriction software to restrict PDFs
Restrict PDF access and use with Locklizard PDF DRM software
Download PDF DRM software that uses US Government strength encryption and digital rights management (DRM) controls to restrict pdf access and control the use of PDF documents.  Restrict printing by preventing printing or by controlling the number of prints, expire PDF documents after a period of time or number of views, instantly revoke access, stop copying, sharing and screen grabbing.
Safeguard PDF Security and Safeguard Enterprise PDF DRM enables you to apply PDF restrictions to restrict PDF access, restrict PDF printing and restrict PDF use.  You can restrict and control access to your PDF files in one simple step.  And unlike Acrobat PDF restriction controls (permissions), Locklizard PDF restriction controls cannot be removed by password removal programs.
Locklizard use US Gov strength encryption, licensing, and DRM controls to restrict and control access to your PDF files.  We don't use passwords, plugins or other insecure protection mechanisms, ensuring your PDFs remain safe regardless of where they reside.  See our DRM technology.
See our customer testimonials or read our case studies to see why thousands of organizations use Locklizard PDF security to restrict PDF access and control PDF use.