How to remove watermarks from PDF, Word, & Google Docs
Easiest ways to delete or remove a PDF, Microsoft Word, or Google Docs watermark
How to easily delete or remove watermarks from PDF, Microsoft Word documents and Google Docs, even if editing restrictions have been applied.
Adobe Acrobat, Microsoft Word, and Google Docs have useful, easy-to-use digital watermarking tools.  They allow you to easily customize what a watermark looks like whether it is placed behind or over text, and its orientation.  What they, unfortunately, do not offer is any semblance of security.  Users can just as easily remove these watermarks as add them, severely limiting their usefulness.
This blog post will demonstrate how to:
and show you how you can prevent watermark removal.
   Why are irremovable watermarks important?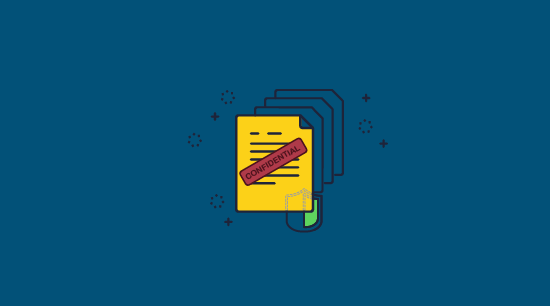 There are three main reasons for applying a watermark:
To identify or authenticate a document, i.e. This document is the property of…
To remind users of its intended use, i.e. Proprietary and confidential do not distribute
To deter users from copying or sharing, i.e. This document is for [Their Name] only
Using watermarks that can be removed is problematic because they can no longer act as a reliable authentication method or deterrent.  Additionally, watermarks stating the intended use case (e.g. a confidential watermark or do not distribute disclaimer) may be removed for readability purposes and then shared, muddying the message.
   How to Remove Watermark from PDF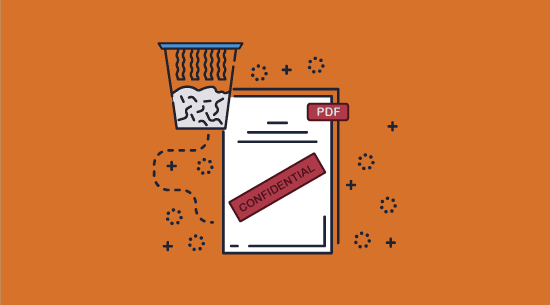 Though Adobe Acrobat and other PDF editor applications offer some rudimentary protection against PDF editing, it is not particularly helpful.  Watermarks can be easily removed from a PDF document using several widely available tools or even Adobe Acrobat itself.
   Remove a PDF watermark in Acrobat
Those who have a copy of Adobe Acrobat Pro can remove the watermark in a few seconds using its editing tools:
Open the PDF and press the "Edit PDF" button in the sidebar.

In the toolbar, press "Watermark > Remove…".

Press "Yes" on the confirmation dialog.

Save the PDF.
   Removing the PDF permissions password
If a PDF has a permissions password set to prevent editing, then in most cases it is necessary to remove the password before you can delete the watermark from the document.
The most obvious way to remove the permissions password is by entering the password.  To do so open it in Adobe Acrobat (or another PDF editor) and press Protect > Advanced Options > Remove Security.



If you do not know the password, then flaws in the Adobe Security Handler allow dozens of free PDF password removal tools to remove it instantly anyway.  It is a simple matter to Google "PDF password remover" and upload the document to the site for password removal.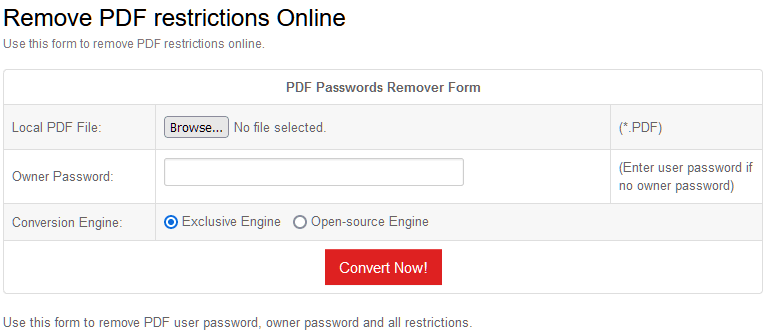 Once the permissions password has been removed you can then delete the watermark.
   Remove a PDF watermark in Google Docs
Google Docs can convert and allow editing of PDF files, making it a good free alternative to removing a PDF watermark with Acrobat:
Upload your PDF to Google Drive.

Open the PDF and select "Open with Google Docs".

Select the watermark text and press the backspace key to remove it.

Click "File > Download > PDF".

   Other PDF watermark remover software & removal tools
Most PDF watermark remover software or watermark removal tools don't do anything special.  They're usually just basic web-based PDF editors that often cannot even remove Adobe watermarks.  You'll usually be better served using one of the methods above, as they are more reliable and don't involve you uploading your PDFs to random websites.
If you cannot install desktop apps and don't want to use Google Docs, here is a watermark remover online tool that works effectively.  This is how you use PDF Watermark Remover:
Go to the utility's website and upload your PDF.

Select "Default Remove" and type the watermark's text in the "Remove Keyword" field. Press "Convert, Remove Watermark".

Press "Save to Computer" and check whether your watermark is removed.
   How to remove a watermark from a Word doc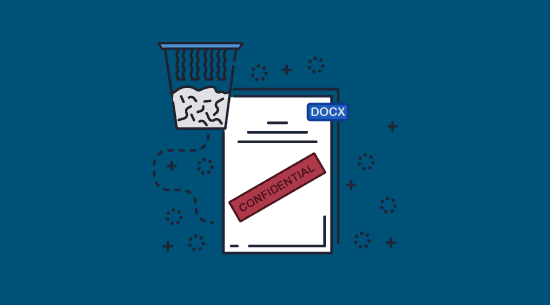 Word documents are another common format that users apply watermarks to.  Removing watermarks from Word documents is even easier than PDFs.  Here's the easiest way to remove a watermark in Word's desktop app:
Open your watermarked document in Microsoft Word.
Open the "Design" tab of the ribbon and press "Watermark > Remove Watermark".

Save the document.
That's all it takes.  Naturally, if you don't use Word, you can use Google Docs by following the same process as for PDF files above.
  What to do if the Word document is protected
There are two primary methods to prevent the editing of Microsoft Word files: restrict editing and Azure Rights Management.  Both of them can be bypassed.
Word's read-only mode to restrict editing, doesn't stop copying and pasting, so you can just select the content and paste it into a new Word document.  This process is outlined in Why you should not password protect a Word document.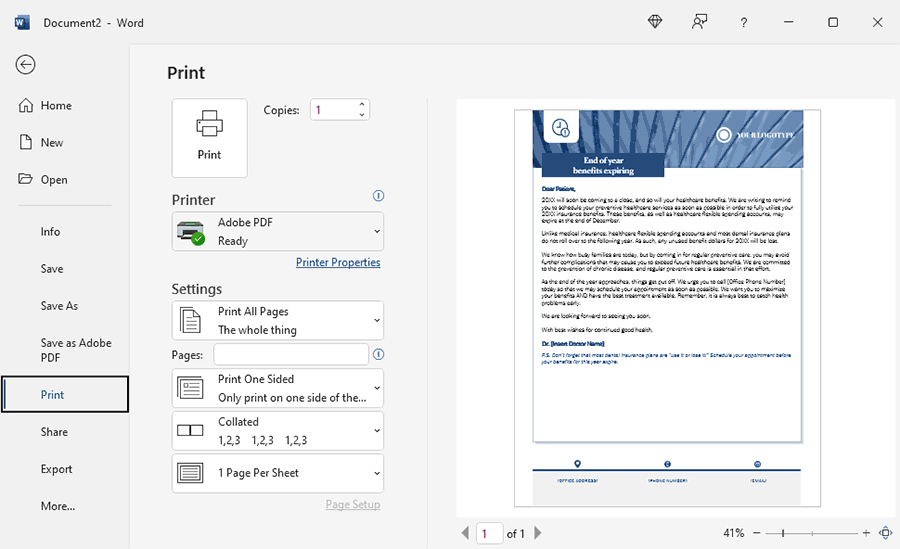 Azure Rights Management offers stronger security, but editing restrictions can still be removed using an open-source tool.  The issues with Microsoft Rights Management are outlined in more detail in Azure Rights Management: How good is its protection?.
  How to remove a watermark in Word Online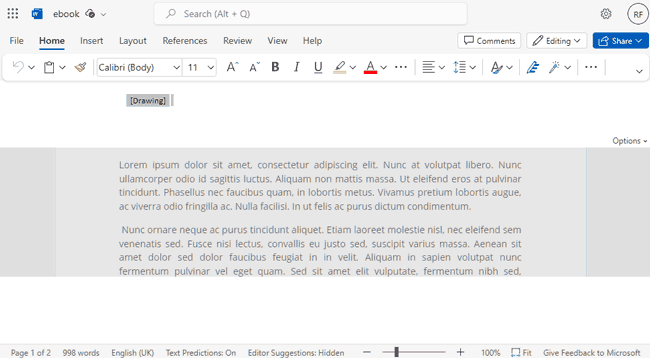 Word Online does not display Microsoft Word watermarks applied through the desktop application.  However, the watermark is technically still present in the document's header.  To delete it, click the "Header" label, select the text that says "[Drawing]", and press delete.  When you open the document in Word desktop, you'll see that the watermark is gone.
   How to remove a watermark from Google Docs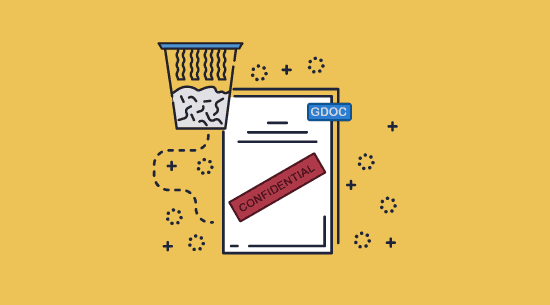 Google Docs watermarks are no harder to remove than Word or PDF ones.  If there's no security on the document, then the removal process is simple:
Open the Document in Google Docs and press "Insert > Watermark".

Press the "Remove watermark" button in the sidebar.

  Remove a watermark in Google Docs that has editing restrictions
You'll notice that if you share your Google doc with editing restrictions, users are unable to select and delete the watermark.  Additionally, applying editing restrictions prevents saving to different formats, so opening the document in Word and removing the watermark is not an option.  However, a bit of digging reveals that Google Docs watermarks are the easiest to remove out of any of the applications we'll cover today.
In its bid to make Docs compatible across all devices, Google has introduced a major flaw in its watermark security.  As a result, all you need to do to remove Google Docs watermarks is replace '/edit' in the URL in your address bar with '/mobilebasic'.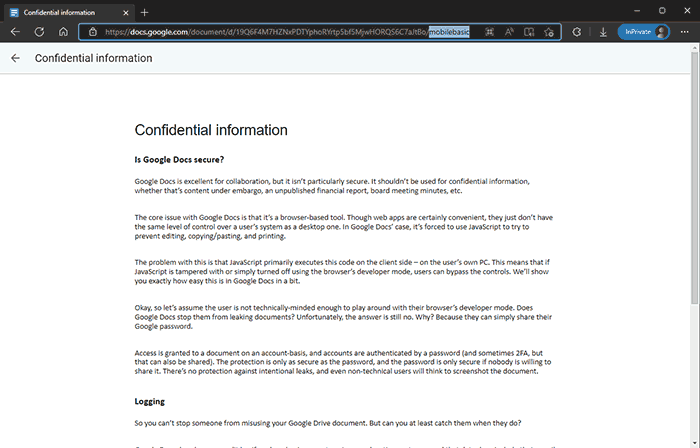 Adding this to the URL removes the watermark from display, leaving users free to use the document as they wish.
  How to remove a Google Docs watermark when printing
If you want to remove a Google Docs watermark when printing, then you'll have to take a couple of extra steps.  However, this is still easy and you won't need to leave your browser.
Open your Google Doc and append 'mobile basic' to the end of the URL.

Press Ctrl + Shift + I to open developer mode.  Then press Ctrl + P and type "Disable JavaScript" press Enter.

Press Ctrl + R to refresh the page.  You can now copy and paste the text into a fresh Google Doc and print it.

For more detail on restrictions and watermark removal see Google Docs Security.
   Is it possible to prevent watermarks from being removed?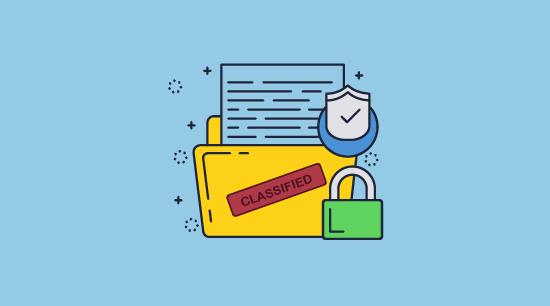 If you are an IT admin or publisher, then hopefully this article was not a rude awakening.  Regardless, it may leave you wondering if it's possible to prevent watermark removal.  Thankfully, while the major PDF and text editing publications have been lax on their security, there are third-party solutions that pick up the slack.
In the PDF format, Locklizard Safeguard DRM delivers a comprehensive suite of dynamic watermarking and document control features.  Our PDF DRM software enables you to add PDF watermarks that cannot be easily removed while giving you the ability to automatically insert the name of the person reading the document.  This allows you to use watermarks as a deterrent against screen photographs or the unauthorized use of printed copies.  Locklizard Safeguard and Enterprise DRM:
Prevent watermarks from being removed by ensuring PDFs can only be opened in our secure viewer application, which stops editing, printing, copying, and screenshots.
Allow you to dynamically add information such as the user's name, company, and email address to text watermarks, as well as the date and time or the publisher.
Allow you to add separate watermarks for printed and digital copies.
Provide the ability to add image watermarks to your PDFs, including moiré patterns to degrade scanned copies.
Let you lock PDFs to specific devices and locations to prevent sharing and misuse.
Enable document expiry based on a specific date, number of days since last open, prints, or opens.
Let you manually revoke documents and users at any point, regardless of what device the document is stored on.
   Why choose Locklizard for your document watermarks?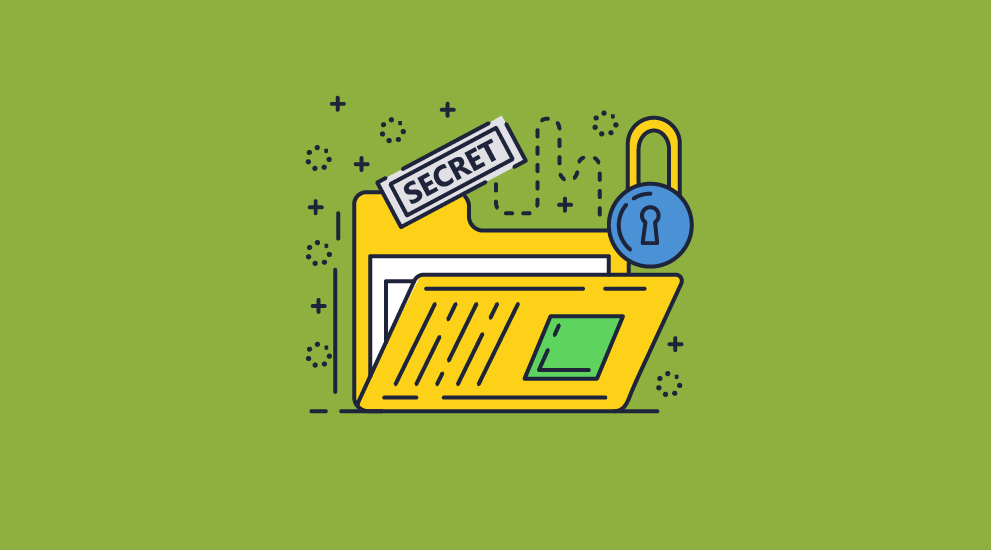 Locklizard is not just about preventing the removal of watermarks – it's a fully-fledged PDF security solution that enables you to add effective security to PDF files while giving you flexible control over who can access your documents and how they can use them.  A combination of encryption, DRM controls, secure licensing and viewer applications, ensures that your documents remain protected without the need for passwords, unwieldy PKI systems, on insecure web browser solutions that rely on JavaScript.  You protect your documents on your device and manage them using our web admin system.
Take a 15-day free trial of our Digital Rights Management software and protect your documents with non removable watermarks and comprehensive document controls.
   FAQs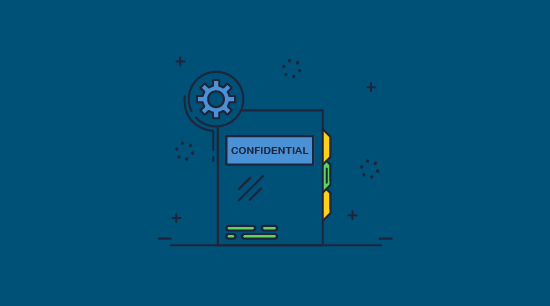 Why can't I remove a watermark from a PDF?
Likely because it has been protected using Adobe Acrobat using a permissions password to prevent editing.  You just need to use a free tool to remove the password and then delete the watermark.
Locklizard-protected PDFs, however, cannot have their watermarks removed since our docs don't use passwords and cannot be edited in Adobe Acrobat or similar applications.
How do I remove a watermark from a Word document converted to PDF?
By opening it in Adobe Acrobat (or a similar PDF reader), editing the document, and then deleting the watermark.
How can I remove the watermark from Word documents?
By opening the "Design" tab in the ribbon and pressing "Watermark > Remove watermark".  Removal of MS Word watermarks are outlined in more detail above.
Can Locklizard watermark documents in the doc/docx format?
No.  Locklizard only protects documents in the PDF format.  You can read how to convert Word to PDF for more info on turning Word docs into PDFs.
Are invisible watermarks (social DRM) a viable alternative to Locklizard?
No.  Invisible watermarks, also known as social DRM, rely solely on security through obscurity, which is never a good idea.  Without strong editing protection, somebody can usually find the hidden watermarks and remove them from the document's code.
What is the best PDF watermark remover online tool?
Ehubsoft's PDF Watermark Remover seems to be a pretty effective tool for removing watermarks from PDF docs.  You can search for specific text such as 'confidential' and remove watermarks from all pages or specific ones.  One good thing about online tools is that they support all operating systems such as Mac, Linux, Windows, etc.  However, be aware that uploading confidential or sensitive documents to someone else's server is never a good idea as they are no longer under your control.
How can you remove a watermark from a photo?
There are many online tools that do this such as Aiseesoft free watermark remover, Fotor's AI watermark remover and WatermarkRemover.io.  They all work in the same way:
you upload your photo, image or logo to their website
you highlight the watermark
their AI software removes the watermark
you download a non-watermarked version
How can you remove a watermark from a video?
This is exactly the same process as removing a watermark from a photo and you can use online watermark removal tools rather than having to manually edit videos.
upload your video
highlight the watermark
download a non-watermarked version
Sites like media.io, HitPaw.com and Beecut.com let you upload videos to their sites and remove watermarks for free.
Are watermarks in the footer and header area easiest to remove?
No, users can easily remove PDF, Word and Google Docs watermarks regardless of where they are placed in the document or the font that is used.