PDF Copy Protection
PDF Copy Protection – Copy Protect PDF Files using DRM Security
   DID YOU KNOW?
Not all PDF copy protection is equal
Passwords are useless – once the user has the password they can unprotect the PDF and do what they like with it
Plugins to Adobe Acrobat don't always work – they can be circumvented by other plugins and stop working after updates
Adobe PDF permissions (stop copy, print etc.) can be removed without using any password removal tools
Brower based solutions (used by secure data rooms) rely on passwords which can be shared with others
"We would really recommend Safeguard PDF Security to every publishing company for managing their ePubs or e-books securely.
Before using this PDF DRM product we were mainly worried about our valuable data, unauthorized use and data piracy. But after implementing this product we have overcome all those issues and managing our e-books has become an easy task.
Safeguard PDF Copy Protection has an easy to use interface to secure PDF files, and it is simple to distribute them to our authorized customers only. Also the prompt response and less turnaround time form Locklizard sales team provided a good customer support experience."

   Why Locklizard Viewers achieve better PDF copy protection
Locklizard uses its own secure PDF Viewers to achieve a higher level of PDF copy protection than other PDF security systems.  Secure PDF content cannot be compromised by other applications or the common Adobe PDF security flaws and cracks.
NO Plug-ins
PDF file security is not compromised by plug-in failures or conflicts. We think that plug-ins are potentially so insecure that we prevent them from loading so they can't compromise our security.  See Adobe PDF plug-in vulnerabilities.
NO JavaScript
JavaScript is one of the commonest forms of malicious attack.  We do not allow JavaScript to run in any of our installed Viewers since it can seriously compromise user's computers – see PDF security issues.
NO Adobe Acrobat
We don't have to update our PDF security product every time Adobe updates Acrobat in order for it to work.  We don't rely on the Adobe Viewer at any time.
NO Passwords
NO passwords are required or distributed to grant access to secure PDF content.
NO temporary files
Secure PDF documents are only ever decrypted on-the-fly in memory.  Secure PDF files are never saved to disk in temporary format or to the Windows swap file.
For a more detailed security overview see our DRM technology.
What is PDF copy protection?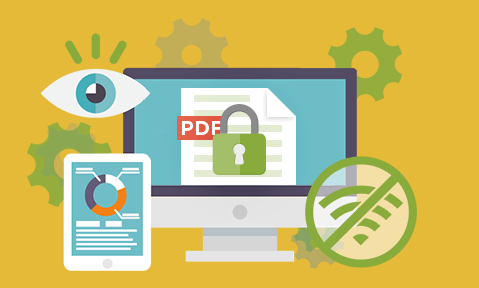 PDF copy protection is one aspect of PDF security and PDF digital rights management and is the process of applying copy protection controls to PDF documents.  In PDF DRM systems it is used to:
prevent users selecting and copying and pasting content into other applications
prevent screen grabbing (copying and pasting of screen content)
prevent printing and editing of content
lock PDFs to authorized devices to prevent users sharing protected PDF files
What is copy protection?
Copy protection is the Holy Grail of the music and film industries.  There have been attempts to make DAT tapes, and then CDs, and DVDs, and now MP3.  These industry attempts have not been notable only in their lack of success.
At the heart of the problem is that everything on a computer is a copy – there are no originals!  To play a music file, or watch a video, or read a PDF document, it MUST be copied on the computer.
And it follows that, no matter how hard you might try, something that must be copied in order to use it can also be copied!  Not exactly rocket science.  After all, you can play a music CD and record the output from the speakers if you want to, and no copy protection system on earth can stop you.  It's just a matter of convenience and quality.
So PDF copy protection cannot rely upon the idea that you can stop people copying computer files.  It's just plain stupid.
So how do you obtain PDF copy protection?
Well the first thing to do is make sure that the file that people have access to cannot be used without some other information.  If you don't do that then you have no copy protection at all.  Because you cannot prevent people copying the file you have to prevent them being able to make any use of it.
Normally this is done using PDF encryption.  This technique means that whilst people can (as happens with all files on computers) readily copy PDF files, they cannot make any use of the copied file because it is still encrypted.
Thus, PDF copy protection is not obtained just by trying to prevent people from copying physical files, but by making sure that the files they copy are of no use unless they also have some additional information that they cannot pass on to other people.  The secret here is to make sure that the cryptographic key(s) used to decrypt the files cannot be passed on to others.  This is achieved by making sure the decryption key is not seen by people and by 'locking' it to individual computers.  This is a critical feature of any PDF copy protection product.
Protecting PDF files with passwords is therefore useless – it does not provide any copy protection because in order to view the PDF a user must enter a password – if they know this then they can give it to others along with the 'protected' PDF file.
PDF copy protection and DRM security
Apart from being able to stop unauthorized users opening protected PDF files you also need to implement additional controls to prevent copying content when a protected PDF is viewed and or printed.
A good PDF DRM system should stop the following:
editing of content
screen shots – both print screen and screen grabber applications
copying and pasting of content
saving protected content to unprotected files (i.e. Save As)
printing
printing to file drivers (if printing is allowed)
storing unprotected content to temporary files on disk
And ensure that:
PDF documents are locked to authorized devices so they cannot be shared
Keys to unlock protected PDFs are transparently relayed to authorized devices and stored securely
Content is only ever decrypted in memory
Dynamic watermarks can be added to documents so that user information is displayed on viewed and/or printed content
Documents can automatically expire after a given time and that you can manually revoke access no matter where PDF documents reside
Document use can be logged so that any unusual behaviour can be detected and acted on – e..g. instantly revoking access
PDFs can be locked to locations so documents cannot be used outside these locations.  For example, you may want users to be able to view protected PDF files on their tablet devices but only at the office.
Copy Protecting PDFs with Safeguard PDF security
To copy protect a PDF
Select your PDF file(s), then in Safeguard Secure PDF Writer, choose the PDF copy protection options to apply:
Give access to all authorized users, specific users, or those with access to publications (e.g. a training course).
Stop printing, allow printing or limit the number of prints.
Add dynamic watermarks to viewed and or printed pages.  Dynamic variables replace actual user and system data when the document is viewed/printed so you only have to protect the document once for all users.
Make the PDF expire on a specific date, after a number of views, after a number of prints, or after a number of days from opening.
Stop screen grabbing (even from remote connections) applications and prevent use of Windows print screen.
Track PDF use – log document views and prints.
Safeguard's default PDF copy protection
Stops users editing, copying and pasting content
Locks PDF files to specific devices so they cannot be shared with others
There are no passwords for users to enter, manage, or remove
You can revoke PDFs at any time regardless of where they reside
   Download PDF copy protect software
Download PDF copy protection software that uses US Government strength encryption and digital rights management controls to copy protect PDF documents.
Ensure your PDF files are protected against copying, editing, printing and distribution.  Lock PDF files to individual computers and locations so they cannot be shared.
Stop unauthorized access and sharing
Control use – stop copying, editing, printing, etc.
Lock PDFs to devices, countries, locations
User and PDF expiry, revoke files and users at any time
Locklizard provides secure PDF copy protection and enables you to copy protect PDFs without using insecure passwords.