PDF DRM Security for the Web
Safeguard Web Publisher

Secure web publishing for PDF files

Safeguard Web Publisher enables you to publish protected PDF documents (PDC files) to the Web so they can be viewed by users in a browser.

Users do not need to install any software to view your protected PDF files.  Documents are securely published to a web server so you don't need to worry about additional document distribution methods, and your secure documents are always available online so can be instantly revoked.
Overview
Safeguard Web Publisher is an additional add-on that enables you to publish PDC files (PDF files protected with Safeguard) for use with Safeguard Web Viewer – a browser based Viewer that does not require installation.
Web Publisher optimizes PDC files for use in a browser environment, and uploads them to a cloud server so they can be accessed with Safeguard Web Viewer.
Steps to publish Protected PDF Files (PDC) Files to the Web
1.  Select the PDC files you want to protect to the Web.  On pressing the 'Publish All' button the protected PDFs are uploaded to a web server.
2.  From the Safeguard administration system, select what users can use the Web Viewer and the documents they can access.

3.  Users receive an email with information on how to log into the Web Viewer.

4. Users log into the Web Viewer via their browser to view the protected PDF files they have been authorized to use.

5.  Users click on a protected PDF document to open it.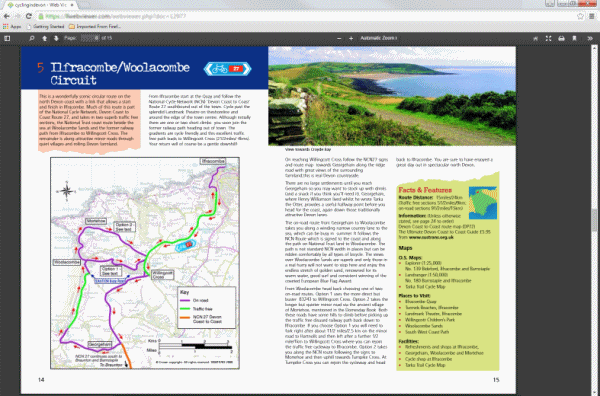 Features
Secure Web Publishing Features
| | |
| --- | --- |
| | Files are uploaded securely to the cloud so are available from anywhere |
| | Users can be instantly revoked |
| | Documents can be instantly revoked |
| | Users can be locked to countries and IP address ranges – e.g. to prevent corporate users using secure documents from home (Enterprise only) |
| | Users are prevented from being logged in to more than one session at once (unless you allow this) to prevent multiple users sharing a single user's credentials |
| | You can specify the number of multiple simultaneous logins allowed (Enterprise only) |
| | Web Viewer automatically prevents document copying, modifying and saving |
| | Content is only ever decrypted in memory – it is never made available as unprotected cached files |
| | Users must be connected to the Internet to view documents |
| | Web Viewer can be branded with your own logo, login screen image, theme colours, newsfeed, favicon and text |
| | Users can be automatically logged in to the Web Viewer using the Safeguard ecommerce API, and re-directed back to your site when logged out |
Publishing for Safeguard Web Viewer vs an Installed Viewer
Safeguard Web Viewer provides an adequate level of security without the installation overheads.  It is not as secure as the installed or USB Viewer, users must be online to view protected PDF files, and document loading times are slower as content is delivered over the web.
The following functionality is not supported:
preventing screen grabbing – only basic protection is provided
locking documents to specific devices
controlling use in thin client/virtual environments
preventing printing to file drivers
Printing can either be allowed or disallowed (you cannot control the number of prints).
Benefits
Secure Web Publishing Benefits
| | |
| --- | --- |
| | No software for users to install – IT departments don't have to install, assign administrator privileges, or carry out formal evaluation – saving time and money |
| | No licenses for users to register |
| | No firewall issues |
| | Truly portable solution – protected PDF files can be used on any device via a browser, anywhere |
| | Stronger than password protection (single login, restrict country and IP) but without the complications of full DRM in a locked down environment |
| | Published documents are available straight away for use without having to be sent via email or uploaded separately to a web site |
| | Allows users with roaming profiles to use secure documents immediately |
| | If a device is stolen there are no documents available to be accessed since documents can only be accessed online |
| | Enables users with any Operating System to use your documents as long as they are using a supported browser |
How it works
Publishing PDF Files Securely to the Web
Protect PDF documents using Safeguard PDF Security or Enterprise PDF DRM.  Documents are encrypted and DRM controls are applied at this stage.
Use Safeguard's 'Protect to Web' application to optimize and upload (to a cloud server) protected PDF documents for use with the Web Viewer.
On the Safeguard Administration system decide what users can use the Web Viewer.  When you enable Web Viewer access on a user's account they are automatically sent an email with their login details to access their dashboard.
When a user logs in to their dashboard it displays a list of protected PDF documents they have been given access to (checks for document access are done against the Safeguard Administration Server.  So for example, if you suspend a document or change the expiry date in the Safeguard Administration system, this will be picked up by the Web Viewer.).
When a user clicks on a protected PDF document it opens in the Web Viewer.  The document is decrypted to memory on the user's computer.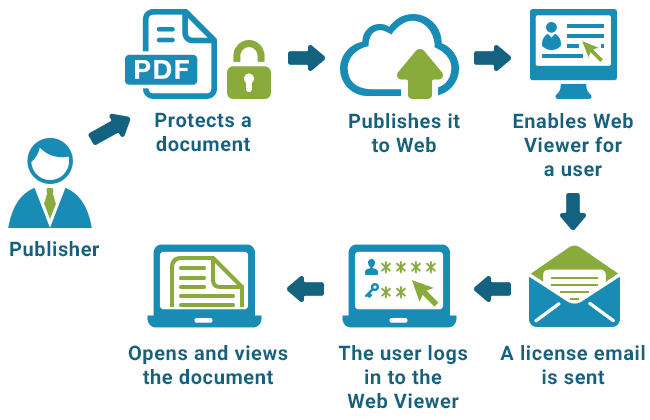 Technical info
Supported Writers

Safeguard 3.0.20 or above
Enterprise 4.0.34 or above

Document Storage

5GB disk space *
30MB max size PDF *
500 simultaneous users **

*NOTE: Extra disk space can be purchased and larger file sizes supported on request.

**NOTE: You can have any number of users authorized to use the Web Viewer but only 500 can use it at any one time.  A browser session will become inactive (and therefore made available) if it has not been refreshed within 30 mins.

Encryption

Data is protected using the AES algorithm and is encrypted at rest and in transit.  Content is only ever decrypted in memory so that there are no unprotected cached files.