Adobe Digital Editions DRM
Adobe DRM & Digital Editions: Is EPUB & PDF DRM secure?
Adobe Digital Editions – DRM for EPUB and PDF DRM Security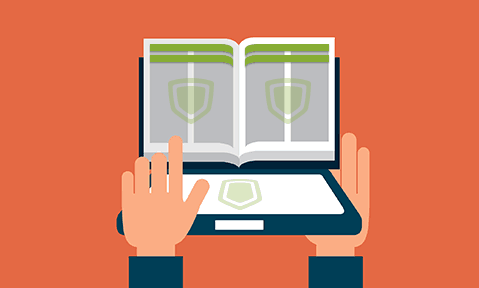 The term Digital Edition has been applied to almost any work (book, picture, music recording, film recording) prepared in a digitized form.  For Adobe, the compound term means, "part of the end-to-end Adobe eBook platform for authoring, protecting, and delivering eBooks across devices."
And the essence is the eBook.  While it might be nice to have integrated multimedia offerings, like St Augustin looking for chastity – not yet.
Hidden under the banner of the more proprietary possibilities was support for the 'standard' ePub format (a definition of book formats using XHTML rather than HTML) which might, had the overall project been more successful, have been advanced.  The ePub format was meant to be an open, vendor-free format but Adobe soon became the main ePub DRM supplier.  Open formats like ePub are therefore not necessarily as "open" as stated, being contingent upon closed-source software to function at a commercial level.
Adobe DRM for ebooks
Adobe ePub is a popular format in the sense that (it is reported that) it can be converted readily into Adobe PDF format (epub to pdf).  In fact it would appear that Wikipedia lists several methods for removing the ePub DRM security (Adept) from Adobe digital editions and its derivative formats, which include Barnes & Noble and Sony.
During its relatively short life so far (at least, as compared with physical books) Adobe digital editions have gathered a number of adherents, and copies in this format are still being sold at the time this article was published.  So it seems that the failure of the DRM technology itself has not completely prejudiced the market against the Adobe digital editions format.  Adobe Content Server is used as the host management system, but available hacks of the Adobe ePub DRM system were widely available from the offset.  Adobe annouced with Adobe Content Server 5 & Adobe Reader Mobile SDK 10 an improved and hardened DRM solution to protect PDF and ePub files from unauthorized viewing – this basically forces users to use an eReader built on RMSDK 10 and above.  However many ePub DRM removal products claim to remove even this protection because they crack the ePub file directly and do no rely on a specific version of an eReader to do so.
So it seems that it is difficult to obtain a secure ePub document, and ePub security continues to be problematic.  ePub DRM is not specifically related to the XHTML definition although it was always anticipated (at least by OASIS, who produced the standard) that SAML would be used.  But epub DRM has not gone down that route, and anyway, SAML was not designed to provide ePub DRM because it did not seek to control use of information, just access to it.
The concept behind Adobe digital editions, to be able to publish ebooks in a 'standard' format (ePub ebook or PDF ebook) and have them reproduced faithfully on a wide number of different platforms, is very good.  But the implementation of ePub DRM or PDF DRM using Adobe Digital Editions has not had a similar success.  ePub DRM has not proved to be effective, and whilst Adobe digital editions will continue to be used it may be some considerable time before effective ePub security or ebook DRM is achieved.
| | |
| --- | --- |
| | Should you publish ebooks to PDF or ePUB format? |
ePub or PDF?
Choosing the format you publish in (ePub or PDF) is very important and it depends on whether you are willing to trade multimedia and interactivity for security and consistent appearance across multiple devices.
The ePub format (XHTML) was developed specifically for Internet publishing:
It supports multimedia and interactive (epub3) elements.
You can create responsive ebooks that resize automatically depending on the device they are viewed on.  Note however it cannot handle text in multiple columns and tables may not display properly on different screen sizes.
It is much lighter than PDF, so it is better suited to smaller devices.
Users can choose between many different ePub readers.  However, just like your choice of browser (Chrome, IE, Firefox, Safari, etc.) they all display content slightly differently.
The ePub format however lacks the cross-platform consistency of appearance (form and format) of the PDF and many subtler controls.
Adobe ePUB DRM & PDF DRM, privacy concerns and ebook piracy
If you are concerned about ebook piracy then Adobe DRM for ePub and PDF formats is not effective to protect ebooks from piracy due to its insecure implementation and poor key management.
What protection are your ebooks getting against piracy and theft if the security can be easily removed? 
If you type in 'epub drm' in Google – all but one of the top 10 entries are dedicated to ePub DRM removal.
Type in 'Adobe Digital Editions DRM' in Google and all of the first page results (apart from one for the Adobe site) are for instructions on how to easily remove it.
If you trust users not to use Adobe DRM removal tools then you might equally trust them not to share your ebooks with others and therefore have no need to implement Adobe DRM security to begin with.
Users have also expressed concern regarding Adobe collecting data regarding their reading habits and transmitting this information to Adobe's servers in plain text.  This is therefore another issue to consider if opting to publish ebooks in ePub or PDF format and protect them with Adobe DRM.
Adobe DRM & Adobe Digital Editions Security
Adobe Digital Editions suffers from a history of critical vulnerabilities which include repeated arbitrary code execution and information disclosure issues.  A list of Adobe Digital Editions Security issues can be found on Adobe's web site.
So not only can Adobe DRM be easily removed, but forcing users to install Adobe Digital Editions could put their systems at risk as well.
| | |
| --- | --- |
| | Why Locklizard as a secure alternative to Adobe DRM? |
Ebook DRM Security without Passwords or Plugins
Locklizard takes your ebook protection seriously, protecting your ebooks from piracy regardless of their location.  We protect ebooks published in PDF format with US Gov strength AES encryption, public key technology, DRM and licensing controls.
Our PDF DRM products enable you to sell ebooks securely without insecure passwords or plug-ins, and enforce access, location, expiry, and usage controls.
Unlike Adobe DRM or Adobe Permissions which can be easily removed, our DRM controls persistently protect your PDF ebooks regardless of location.
Ebooks are locked to devices so they cannot be shared with others.
Ebooks can be permanently and dynamically watermarked with user details.
No keys are exposed to users or interfaces (so they cannot be easily cracked or removed), and ebooks are only ever decrypted in memory – see our DRM technology.
Our easy to use adminsitration system provides simple user and ebook management, and unlike passwords, keys are transparently and securely managed for you.
See our customer testimonials and read our case studies to see why thousands of organizations use Locklizard to securely sell their ebooks and protect them from piracy.