Safeguard Secure PDF Viewers
Protected PDF File Viewers

Installed or Zero installation PDF Readers

Our FREE Secure PDF Viewers enable you to view protected PDF files (PDC files) on a variety of Operating Systems.  You can either install a Viewer on Windows, Mac, iOS or Android devices, or use our zero installation viewers that can be accessed via a browser using any Operating System, or via a USB device.
Overview
Secure PDF File Viewer for complete PDF File Security

PDF document security viewer implementing DRM controls
Safeguard Secure PDF Viewer controls authorized viewing of secure PDF files published in the PDC file format.  Safeguard Secure PDF Viewer supports PDC files protected with Safeguard PDF Security and Enterprise PDF DRM.
Safeguard Secure PDF Viewer is a FREE standalone application that enforces the licensed use of secure PDF documents (for example how long they can be viewed, if they can be printed, etc.).  Document controls are set and licensed by the document publisher and cannot be altered by the user or Locklizard.  Copy control measures enforce document protection whilst remaining transparent to the document user.
Installed Viewers
Our installed Viewers let you use protected PDF documents offline (subject to controls set by the document Publisher), are quick, and provide enhanced functionality.  Safeguard Secure PDF Viewer can be installed on any device running Windows, Mac, iOS or Android, and can be download from our web site.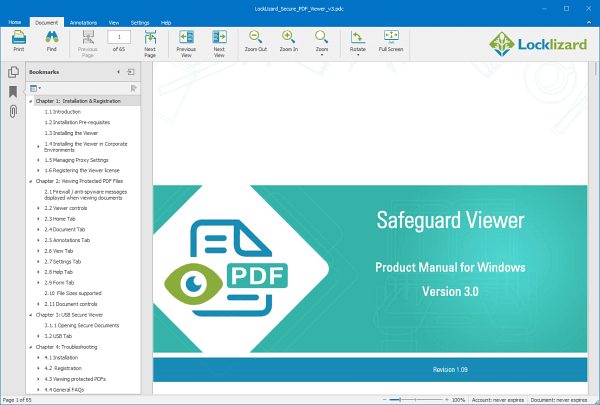 Zero installation Viewers
If you don't want to install a Viewer, you can view protected PDF documents from a Web browser with Safeguard Web Viewer, or a USB stick with Safeguard PDF Portable.  These Viewers are not available to download from our Web site – they can only be obtained from the document Publisher.
Safeguard Web Viewer requires you to always be online and works with any of the supported browsers on any OS.
Safeguard PDF Portable Viewer can be run directly from a USB stick.  It is only available for the Windows OS.