Ebook Security
Ebook Security & Ebook DRM
Guide to ebook security and securing ebooks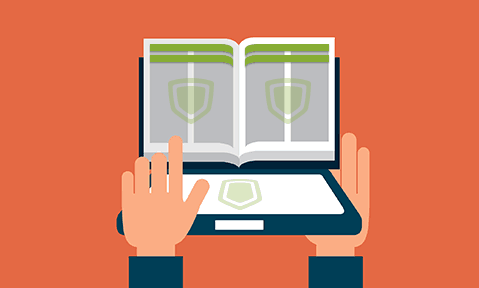 What is ebook security?
Ebook security is an expression that was created when the term ebook was first used, maybe around 1999.  Hopefully the Oxford English Dictionary will provide an historical reference, but it shouldn't be too far from that date.
Today it can be difficult to see any difference between the two, although Adobe and Amazon might be the biggest users of the term until Adobe withdrew their ebook service.  But the term is successfully established and is likely to survive having been taken up by many other users since.
If you have an ebook – a book that is represented by digital means rather than a physical print image – then it is much easier for someone else to copy it than if it were a print book.  The most practical security feature of a physical book is the difficulty of making an acceptable copy.  It is significantly cheaper to buy another copy than to bother trying to get a halfway decent photocopy.  And a photocopy is a complete pain to read.
But an ebook is totally different. Likely it has been designed so that it is comfortable to read on a computer screen (maybe it uses the latest Microsoft typeface?) and has a layout that means the reader can use the technology to some good effect.  So copying an ebook for redistribution is a whole different ball of wax from copying a paperback or a hardback book.  In fact, the very creation of the ebook format, within the necessary limitations of the technology used to create ebooks that facilitates copying, created the requirement for ebook security as a technological control that was not necessary for physical print books.
Ebook security relies upon encryption (scrambling information in such a way that only those who have the correct key are able to return it to its original form) to prevent copying the content and making it readily available to others.  But access to content encryption must be strictly controlled if it is going to be effective.  Where password systems are used, the passwords can be too easily shared between users, effectively syndicating the ebook that is sent to one person to a whole community.
Even registration codes can be misused.  They are just long passwords, and in some systems, valid code generators can be acquired from the Internet (a Google search for the term Adobe code crack appears to have over 2M entries).  So if you are going to apply ebook security you need a cryptographic system where the user is not involved in generating or entering passwords, so that the ability to crack the encryption system is significantly reduced, if not completely prevented.
Ebook security must be comprehensive if it is to be effective.  So it has to cover not just preventing easy copying of the file content, but stop printing, at least at high quality.   Some ebooks are talking versions, so screen copying is not a very practical way to compromize their security, and some ebooks can contain video sections as well as static pictures and text.  So a thorough approach is required to understanding how ebook security is to be applied if it is to be successful.  And that means having different options available to provide ebook security that is going to fit the specific requirement, rather than demanding you publish in one specific format, say PDF, for instance, without which you are not offered ebook security at all.
Secure Ebooks with Locklizard Ebook DRM software
Download ebook security software with DRM controls that protects ebooks published in PDF and HTML formats and does not rely on passwords for security.
Using US Government strength encryption (AES 256 bit) and digital rights management controls to prevent unauthorized use and misuse of your ebooks, you can control who can view your ebooks, what they can do with them (copy, print, etc.) and when they can no longer be viewed (expire).
Our ebooks security software is simple to use – secure ebooks by right clicking on them in Windows Explorer and select the secure document access rights.