Ebook Security
Ebook Security & Ebook DRM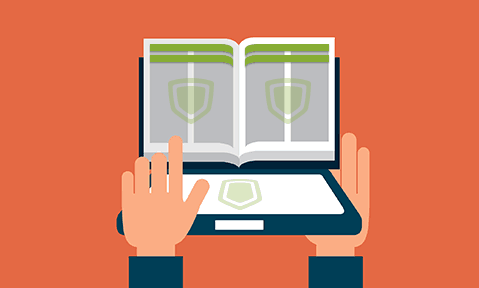 Ebook security and securing ebooks
What is ebook security?
Ebook security is method of copy protection applied to digital books to prevent users from sharing and distributing ebooks with others.
It can use many different security technologies including encryption, watermarking, and access controls, and is often implemented by using proprietary file formats.
Free 15 Day Trial
Ebook PDF Security Software
Stop unauthorized access and sharing
Control use – stop copying, editing, printing, etc.
Lock ebooks to devices, countries, locations
User & ebook expiry, revoke ebooks at any time
Securing Ebooks with Safeguard PDF security
To secure a PDF ebook
In Safeguard Secure PDF Writer, choose your ebook security options:
Stop printing, allow printing or limit the number of prints.
Add dynamic watermarks to viewed and or printed pages.  Dynamic variables replace actual user and system data when the ebook is viewed/printed so you only have to secure the ebook once for all users.
Make the ebook expire on a specific date, after a number of views, after a number of prints, or after a number of days from opening.
Allow or stop screen grabbing (even from remote connections).
Log ebook views and prints.
Allow offline use, enforce online use, or allow flexible online and offline use.
Safeguard's default ebook security
Stops users editing, copying and pasting content
Locks ebooks to specific devices so they cannot be shared with others
There are no passwords for users to enter, manage, or remove
Revoke ebooks at any time regardless of where they reside
   DID YOU KNOW?
Ebook Security Tips
Securing ebooks with passwords is useless because users can share them or remove them with password recovery tools
If printing is allowed dynamic watermarks can discourage photocopying and distribution
Adobe PDF permissions (stop copy, print etc.) can be easily removed
Amazon, Apple and Adobe ebook DRM systems have all been broken
"We have been looking for years to find a software company that would allow us to securely sell our eBooks.  Locklizard offers so many options, we are able to fill the needs of all of our customers.  We have used other software providers that had promised the security of our eBooks but they never lived up to that promise the way that Locklizard has.
The support we received has been outstanding.  They are very responsive to our requests and go the extra mile.
I would recommend Locklizard if you are looking for secure ebooks."

| | |
| --- | --- |
| | Why Locklizard for Ebook Security? |
Locklizard provides many advantages over Apple, Adobe & Amazon ebook security
Locklizard takes your ebook security seriously.  Sell ebooks securely without insecure passwords or plug-ins, and enforce access, location, expiry, and usage controls.  Our DRM technology ensures your ebooks remain safe no matter where they reside with US Gov Strength encryption, licensing, and DRM controls.  Ebook content is decrypted in memory and no temporary files are used.
Preventing Ebook copying and sharing
If you have an ebook – a book that is represented by digital means rather than a physical print image – then it is much easier for someone else to copy it than if it were a print book.  The most practical security feature of a physical book is the difficulty of making an acceptable copy.  It is significantly cheaper to buy another copy than to bother trying to get a halfway decent photocopy.  And a photocopy is a complete pain to read.
But an ebook is totally different.  Likely it has been designed so that it is comfortable to read on a computer screen and has a layout that means the reader can use the technology to some good effect.  So copying an ebook for redistribution is a whole different ball game from copying a paperback or a hardback book.  In fact, the very creation of the ebook format, within the necessary limitations of the technology used to create ebooks that facilitates copying, created the requirement for ebook security as a technological control that was not necessary for physical print books.
Ebook security relies upon encryption (scrambling information in such a way that only those who have the correct key are able to return it to its original form) to prevent copying the content and making it readily available to others.  But access to content encryption must be strictly controlled if it is going to be effective.  Where password systems are used, the passwords can be too easily shared between users, effectively syndicating the ebook that is sent to one person to a whole community.
Even registration codes can be misused.  They are just long passwords, and in some systems, valid code generators can be acquired from the Internet (a Google search for the term Adobe code crack appears to have over 2M entries).  So if you are going to apply ebook security you need a cryptographic system where the user is not involved in generating or entering passwords, so that the ability to crack the encryption system is significantly reduced, if not completely prevented.
Ebook security must be comprehensive if it is to be effective.  So it has to cover not just preventing easy copying of the file content, but stop printing, at least at high quality.  Some ebooks are talking versions, so screen copying is not a very practical way to compromize their security, and some ebooks can contain video sections as well as static pictures and text.  So a thorough approach is required to understanding how ebook security is to be applied if it is to be successful.  And that means having different options available to provide ebook security that is going to fit the specific requirement, rather than demanding you publish in one specific format, say PDF, for instance, without which you are not offered ebook security at all.
   Download PDF ebook security software
Secure Ebooks with Locklizard Ebook DRM software
Download ebook security software with DRM controls that protects ebooks published in PDF format and does not rely on passwords for security.
Using US Government strength encryption (AES 256 bit) and digital rights management controls to prevent unauthorized use and misuse of your ebooks, you control who views your ebooks, what they can do with them (copy, print, etc.) and when they can no longer be viewed (expire).
See our customer testimonials or read our case studies to see why thousands of organizations use Locklizard PDF security to securely sell their ebooks.
Ebook security witih DRM controls made simple.