Lock PDF Files
Lock PDFs from editing, printing, copying
Locking PDF documents and PDF locking software
What is a PDF Lock?
A PDF lock is a method or technique for denying access to pdf encoded information.  Although there are many ways of implementing access controls, such as passwords or registration codes, those are keys to open a PDF lock.
Some types of PDF lock are achieved with hardware – typically a 'dongle' which is a piece of hardware that must be present if the PDF lock is to be opened.  Contrary to some recent 'opinions' the dongle is not obsolete and US law does not allow them to be removed UNTIL on an individual basis they are actually obsolete.
Other types of PDF lock are implemented in software, and these may require registration codes, user identification codes, as well as network or machine addresses to be present or provided.
To be realistically effective, a PDF lock has to make use of encryption if it is going to prevent anyone from being able to process the PDF without a suitable key.  And, of course, just like any other locks, there are different grades of PDF lock.
A simple PDF lock uses a password to allow access to the content it is protecting.  This is not a very effective PDF lock, because passwords can be easily given away, or found with password attack tools.  Sometimes the password is also included with the document, which is not a very wise approach.
The more thorough PDF lock goes much further.  It checks independently that the user/machine it is working on has been registered for the document in question, and that it can obtain secrets needed to form the key, and that the use of the key is valid.  This kind of PDF lock is therefore much more subtle, and breaking the PDF lock much more complicated.
And whilst a PDF lock may show some of the characteristics of physical locks – only opening at certain times, not opening if the surroundings are wrong, and so on, it can extend the capability of the physical lock by addressing how the pdf is subsequently used.  So a PDF lock is granular and layered architecture, rather than a simple on/off mechanism.  A PDF lock is able to decide what features are to be unlocked, and even for how long or under what circumstances.  A PDF lock is a very important methodology supporting the application of DRM to PDF documents.
It does not circumvent rights (such as fair use or fair dealing) because it does not prevent authorized people from viewing content on the screen and then writing it down or typing it back in to a word processing system. (Not maybe as elegant as copy and paste but it does work anytime anywhere, and it's legal.)  But a PDF lock must be able to prevent authorized users from passing on information after it has been unlocked (unless, of course, the owner specified that as a capability).
Locking PDF files from copying, printing, editing
How to lock PDF files to prevent changes
Adobe Acrobat lets you lock PDF files with a password so that they are set to view or read only.  You can lock PDFs so they cannot be copied, printed or edited.  However, the only protection available is the password which can be easily removed using freely available PDF password removal tools.  Once the password is removed the recipient can do what they like with the file.  So the Adobe method of locking PDFs to prevent changes provides zero protection since it can be easily defeated.
Safeguard PDF Security locks PDFs using public key technology.  There are no passwords to enter or remove.  When you protect a PDF, a corresponding key for the document is relayed to a server and stored encrypted.  This key is transferred in encrypted form to an authorized user's computer when they open the PDF document.  The key is held encrypted in a keystore and the keystore is locked to the authorized computer so it cannot be moved to another device.  Safeguard PDF Security locks PDF files so they cannot be be copied, printed, edited, saved as (saved in unprotected form), or screen grabbed, and enables you to apply dynamic watermarks on printed and viewed documents.  When you lock a PDF using Safeguard PDF Security it encrypts the document and applies DRM controls – document protection is enforced no matter where the PDF file is stored or who it is sent to.  If a locked PDF is sent to a non-authorized user they will not be able to open it since they need a decryption key.
Safeguard PDF Security therefore provides you with a much better PDF locking solution than Adobe Acrobat:
Strong PDF security that cannot be easily bypassed with passwords
Ability to apply dynamic watermarks (displays user's name, email, company, date/time, etc.) which are displayed at view/print time.  You only have to protect the PDF once for all users and the correct information is inserted depending on the user who has opened the document
PDF usage can be locked to a domain, or a range of IP addresses – you might want to do this for example if you only want users to use your protected PDF files from say an office location
You can lock PDF files so they can only be used with specific Operating Systems (e.g. Windows only devices)
You can lock PDF files so they can only be used within specific environments (e.g. preventing of thin client environments)
Stops Windows print screen and common third party screen grabbers from grabbing screenshots
You can set PDF files to expire on a fixed date, after a number of days use, after a number of views or prints
You can revoke locked PDF files at any time
You can log PDF views and prints
How to lock a PDF file using Safeguard PDF Security
Locking PDF files with Safeguard is very simple.  Right-click on your PDFs in Windows File Explorer and select the menu option 'Make Secure PDF'.

You can then choose what DRM controls you want to apply from the Writer tabs: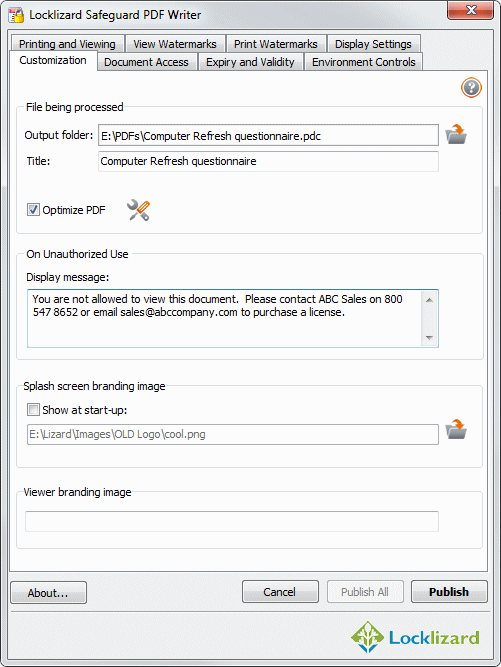 PDF files are always locked from being changed (read only).   Users cannot copy or save protected PDFs into unprotected files, edit or print them.  You can enable printing or limit the number of prints, apply watermarks and set expiry dates.
Download PDF locking software
Download PDF locking software that uses US Government strength encryption and digital rights management (DRM) controls to lock PDF documents and control their usage.  Safeguard PDF Security locks PDF files to individual computers so they cannot be shared.  And with Safeguard Enterprise PDF DRM you can lock PDFs to domains and IP addresses on an individual user or global basis.