PDF Encryption
PDF Encryption Software to Encrypt PDF Files & Documents
PDF encryption guide to encrypt pdf documents & files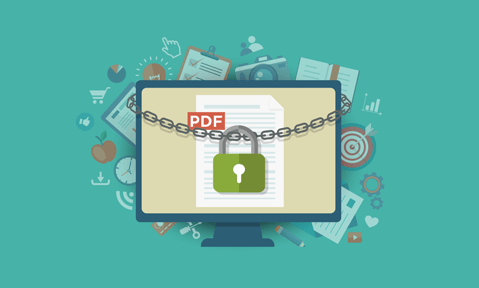 What is encryption?
Encryption is the use of a mathematical system (algorithm) to make information secret from anyone not authorized to use it.  Encryption uses a secret key to scramble information applied to files so that only those with the correct key can view them.  PDF encryption is therefore the encryption of PDF files, the result of which is an encrypted PDF file.
Encryption keys are sometimes taken from passwords, but passwords are a poor choice for encryption keys – see PDF password protection.  Encryption keys are usually very long, and their values are almost random, making them almost impossible to find and impossible to guess.
What is PDF encryption?
PDF encryption is therefore the encryption of PDF files and this may be carried out in a number of different ways.  At the simplest level one can encrypt an entire PDF file.  At a second level one could encrypt parts of the PDF information thus making the PDF file effectively unusable but without having to encrypt all of its content.
So why would I want to encrypt PDF documents (PDF encrypt)?
There are many reasons why you would want to use PDF encryption.  The information in the PDF document is confidential and only a restricted number of people should be able to see it.  This could include training courses, price lists, bid documents, takeover plans, healthcare records, and so on.  The information is valuable – you sell it – perhaps a newsletter, or an analyst's report, or a consulting report or a periodical or a book.  You obviously don't want to give it away!
If you don't encrypt the PDF file then anyone can read it and the value of your information is lost.  But if you are going to encrypt PDF files you need to select a package using a reliable encryption method.
What should I look for in a PDF encryption software package?
Well, you should use PDF encryption software that uses US Government strength encryption (and is not password based – read PDF password protection to see why).  The US government has approved an algorithm called AES for protecting US government information that is confidential.  It has two key lengths, 128 bit and 256 bit (16 or 32 bytes of data).  You will see many other algorithms proposed in many products, but they do not have the recommendation of the US government to back up their claims.
Download PDF encryption software that uses AES 256 bit encryption and digital rights management controls and does not rely on passwords to encrypt PDF files.  You control if your encrypted PDF documents can be copied, shared and printed (and how many times) and when they expire (if ever).  Encrypting PDF documents is simple and secure with Safeguard PDF Security.
So how does PDF encryption differ from PDF Security or PDF Digital Rights Management controls?
Well, PDF encryption prevents those who are not authorized from using the PDF document.  But those who are authorized to use it can decrypt it and then do whatever they wish with it – copy it, send it to friends, edit it, print it and so on.  In some instances, such as transferring financial data for computer processing, encryption on its own provides all the requirements.  But information in published documents such as the ones we listed above means you need additional controls to actively prevent a user who is authorized to see the document from doing other things that you do not want to approve.
For more information on extending controls beyond PDF encryption please see PDF security and PDF digital rights management.
Further reading on encryption
To learn more about document encryption, please take a look at the following white papers.

   PDF Security and Encryption


   Encryption is not enough for DRM
Encrypting PDF files with Safeguard PDF Security
Safeguard PDF security takes PDF encryption to the next security level.  It encrypts PDFs with AES 256 bit encryption to prevent unauthorized access and applies DRM to control what authorized users can do with your PDF documents:
stop sharing
stop copying
stop modify
stop or limit printing
stop screen grabbing
control expiry (how long your PDFs can be used for)
revoke access at any stage
apply dynamic watermarks to identify users
Our Enterprise DRM software also enables you to lock PDFs to country and IP locations, and you can log document use.
To encrypt PDF files you right-click on them in Windows File Explorer and choose the DRM controls you want to apply.  PDFs are locked to individual devices, content is only ever decrypted in memory, and there are no passwords to enter or manage, or for users to share or forget.
If you need PDF encryption with document control then start your FREE 15 day trial.