Why Google Docs watermarks are not secure
How watermarks in Google docs are easily removed & how to add a permanent watermark.
Google Docs has a dedicated watermarking tool, but how well is it implemented?  This blog examines how to add a watermark with Google Docs, how to easily remove it, and secure and permanent alternatives.
It's easy to see why a lot of businesses are tempted by G Suite and Google Docs in particular.  The freedom of a word processor that can be used collaboratively from anywhere is enticing.
However, technology rarely functions on a binary, "better or worse" scale.  The freedom of Docs comes with significant trade-offs, especially in terms of security – if it can be easily removed there is no point in adding it.  We've broadly discussed Google Docs security already, but today we wanted to hone in on an aspect that is particularly misleading: watermarking.
  Why watermarking is important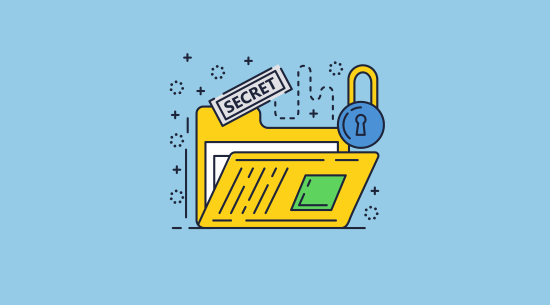 Before considering the effectiveness of Google Docs watermarks, it's important to consider what businesses use watermarks for and why they are important.  There are three main reasons to watermark a document:
To assert copyright:  Watermarks clearly state the copyright holder so that there is no confusion surrounding where the document originated from, no matter where it is shared.
To prevent unauthorized sharing:  Watermarks stating the reader's personal information next to that of the copyright dissuades unauthorized sharing and piracy.  Any document that is shared while the watermark is intact can be traced straight back to the reader/sharer.
To remind readers of their obligations:  In environments where documents have differing rules, such as in government classification, a watermark can remind the reader what they should and should not do with the document.  For example, ones that read "Internal use only".  Alternatively, you may want to add a draft watermark to display the document's production status.
Let's take a look at the issues with watermarks in Google Docs and the implications they have for these three use cases.
   The drawbacks of Google Docs watermarks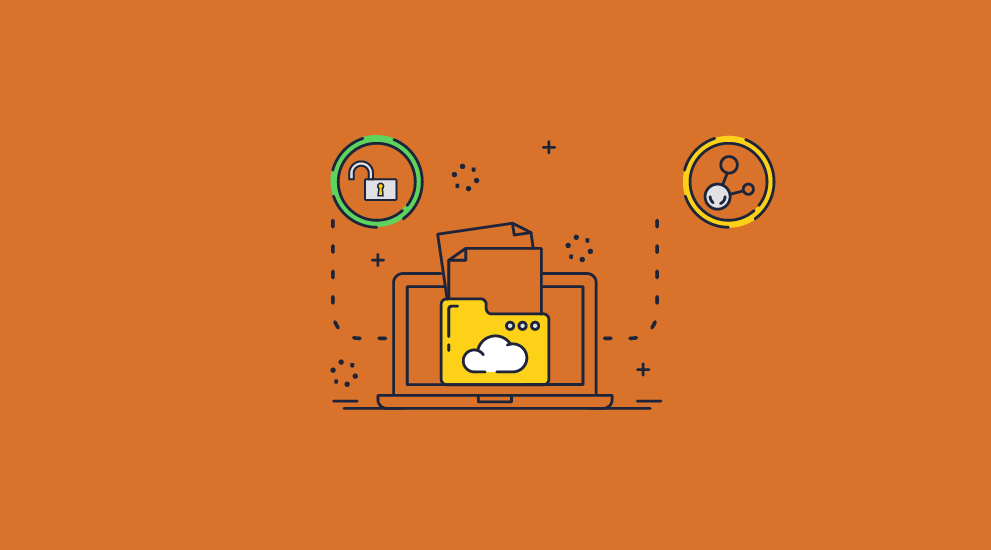 Google Docs watermarks have a few advantages – namely, they're simple to apply, unobtrusive, and don't require any additional software.  Unfortunately, though, their drawbacks are so significant that they are useless for the vast majority of use cases.
One issue with watermarks in Google Docs is that they cannot be personalized at scale.  If the publisher wants to apply a watermark with identifying information, they must manually collect the details of every user, create a copy of the document for each of them, and then type their information into the watermark box manually.  They must do this for every document that is assigned to every user.
This is of course unfeasible.  Using separate copies does away with one of the main reasons for using Docs in the first place – collaboration – and would take an inordinate amount of time.  You may as well just bin the idea of identifying watermarks entirely.
The second problem is much more severe: watermarks in Google Docs are extremely trivial to remove.  This applies even to documents that you have protected against editing.  We'll show you down below just how easy this process is; it takes less than a minute and requires no technical knowledge.
   What are Google Docs watermarks good for?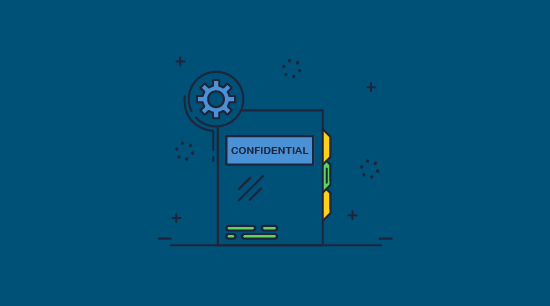 The tempting answer would be "absolutely nothing", but that's not quite true.  While use cases one and two from above are out of the question (you can't assert copyright or dissuade sharing if the watermark is easily removed and can't be personalized), use case three is still feasible.
Let's put it more clearly: Google Docs watermarks are only good for reminding trusted users how they should treat a document.  They are useless for preventing piracy and unauthorized sharing or stopping others from claiming your work as their own.
  How to watermark in Google Docs
If you just want to use a simple watermark to inform the user, Google Docs will serve you fine.  The process to add a watermark in Google Docs is quite simple, though it is still time-consuming at scale:
With the document open, press Insert > Watermark.


Insert watermark in Google Docs document

Type your watermark text or add an image watermark.


Watermark on Google Docs

Share the document with a trusted recipient.
Remember that anybody you share the document with will be able to remove the watermark with ease, as we'll demonstrate below.
  How to remove a Google Docs watermark
Removing a watermark in Google Docs is even easier than inserting one.  Just replace the /edit in your address bar with /mobilebasic and it'll disappear.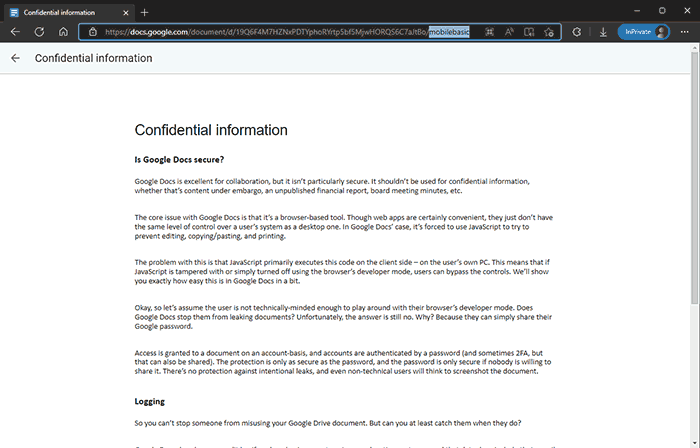 If you want to print the document, you'll have to go a step further by additionally disabling JavaScript:
Open the Google Doc in your browser and replace the /edit part of the URL with /mobilebasic.

Google will provide you with a pared-down, mobile version of the document.  If the document is protected against copying, you'll notice you still aren't able to copy and paste it.  That's what the next steps are for.
Press Ctrl + Shift + I on your keyboard to open your browser's developer mode.

Press Ctrl + Shift + P, type 'JavaScript, and click on 'Disable JavaScript (Debugger).

With the developer panel still open, press Ctrl + R or the refresh icon to reload the page.  After it has loaded, you will be able to copy and paste its contents and print it.

  Can you watermark Google Sheets?
There is no in-built Google Sheets watermark tool, but you can use the "Drawing" tool to place a text or image watermark over your spreadsheet content: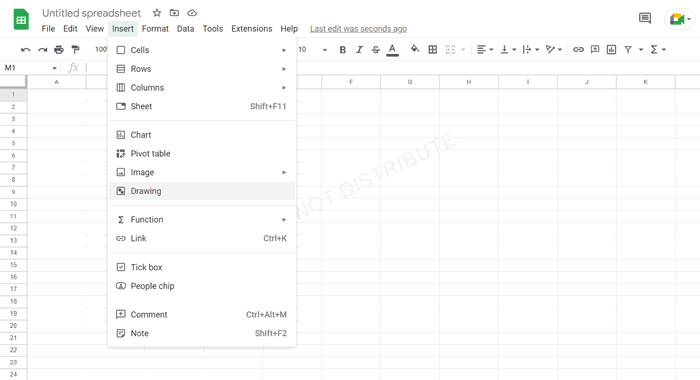 Unfortunately, despite using a different method to Google Docs it is just as easy to bypass.  All you need to do is select the drawing in your browser's developer mode and press the delete key.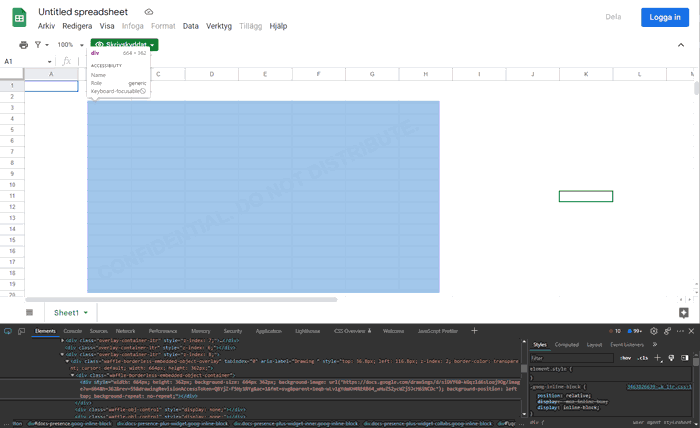 Can you watermark Google Slides?
You can watermark Google Slides by adding text to the slide master, which is found by pressing "Slide > Edit Theme".  By sending the text box to the back, you can have the Google Slides watermark display behind your content.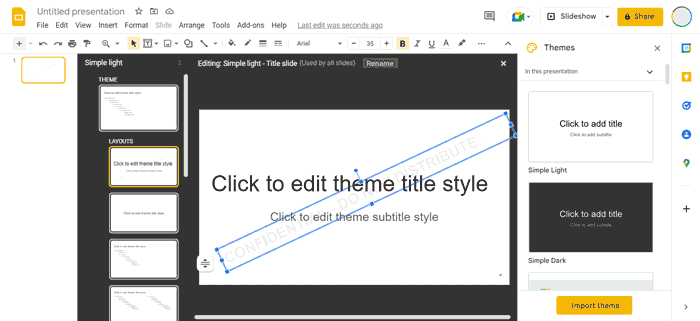 However, it is also easy to remove.  Users can open their browser's developer mode, press Ctrl + F to search for the watermark text, and then delete it.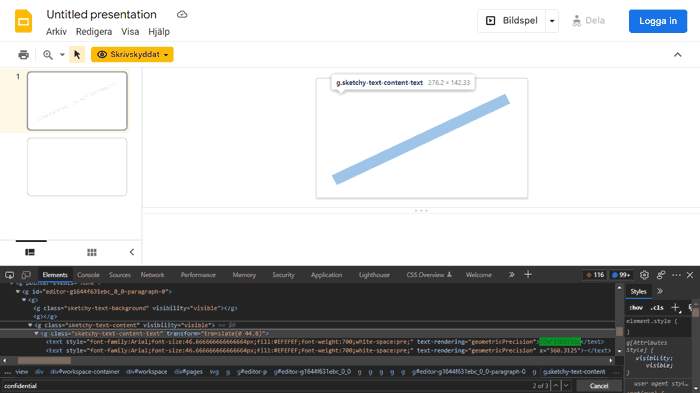 Secure watermarking alternatives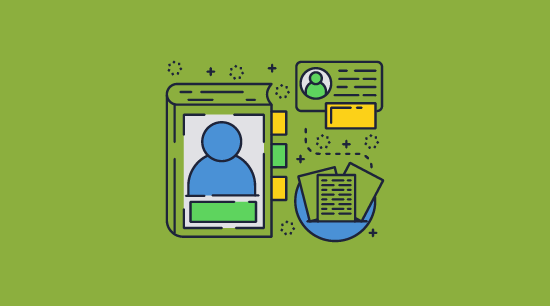 Clearly Google Docs watermarks are not fit for purpose when it comes to the most common business use cases.  The same can be said for Google Slides and Google Sheets watermarks.  So, what should you be using instead?  The truth is that there is currently only one format that can provide truly irremovable watermarks: the humble PDF.
Of course, the first thought when you hear PDF is probably Adobe.  And while yes, Adobe Acrobat does allow you to insert watermarks, they're no more effective than Google Docs ones.  Adobe Acrobat's editing restrictions can be removed in seconds with a variety of online and local tools.  Once a user can edit, they're able to remove the watermark using the exact same method utilized to add it – see PDF watermarking.
  Watermarking that works
To prevent watermarks from being removed you need a solution that combines watermarks with PDF DRM to stop unauthorized editing, printing, copying, and screenshotting.  Locklizard Safeguard DRM allows you to protect PDF files with DRM controls and add watermarks to PDF documents that are dynamic and permanent.
With Locklizard Safeguard you can:
Protect a document once and have it apply custom watermarks for all users.
Define variables for these watermarks that will insert their name, email, the date/time, and publisher information when the document is opened.
Be assured that your watermark cannot be removed and anti-editing, copying, printing, and screenshotting controls are maintained.
Apply a different watermark for digital and printed documents.
Customize the position of the watermark or have it repeated across the page.
This combination of effectiveness and customization is something that Google Docs, Microsoft Word, and Adobe Acrobat just aren't able to provide for business customers.
  How to make a watermark permanent with Locklizard Safeguard
You can add a watermark with Safeguard PDF Writer by following these steps:
Right-click your PDF in Windows File Explorer and select the option "Make Secure PDF".


Creating a protected PDF

Open the View Watermarks or Print Watermarks tab, depending on where you want to add it.  You can add both view and print watermarks with different text and images.


Adding a text watermark

Tick "Add Text Watermark" and enter "Confidential do not distribute, Draft, Copyright protected" (or something similar).


Adding a dyanmic watermark

To add dynamic variables to your document, press the icon and select the ones you want to add.  When the document is viewed, these will be replaced with actual data.

Press the "Aa" icon to change font formatting options such as text color and size.


Changing watermark font size, style, and color of the text

Choose the watermark position via the dropdown and adjust the opacity slider to alter the transparency.


Changing the watermark position and opacity.

Optional: Add an watermark image in the "Image Watermark" tab such as a background image or logo.


Adding an image watermark to a document

Press "Publish" to encrypt your document and apply the permanent watermark.


Example of a dynamic confidential watermark applied to a document
If you must use Google Docs to share your watermarked document, then our guide on how to add a PDF to a Google Doc may be helpful.  You can insert your .pdc file into an existing document to securely embed sensitive information.
  The best way to watermark Google Docs, Sheets, and Slides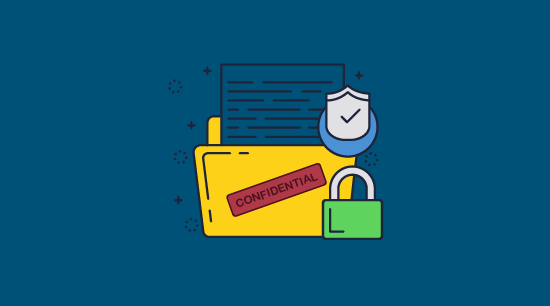 As you may have gathered by now, the best way to watermark your Google Docs is to not apply the protection with Google Docs at all.  You gain far better security by saving the document as a PDF and protecting it with a dedicated DRM solution like Locklizard Safeguard.
Though it's tempting to make a watermark in Google Docs to maintain collaboration, there are few situations in a business environment where it's suitable.  Any sharing situation where you do not have 100% trust in the recipient should be backed up by watermarks that cannot be easily removed or bypassed.
To lock your Google Docs from sharing, unauthorized editing, copying, printing, screenshotting, and misuse, take a 15-day free trial of our PDF DRM software.
   FAQs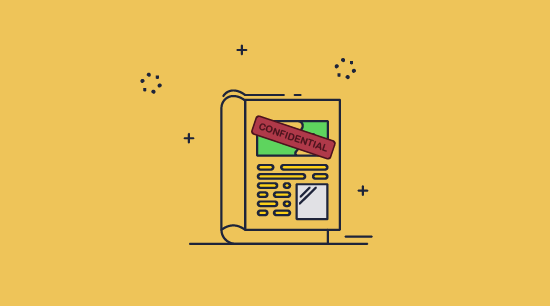 If I let users download a document are watermarks still enforced?
Yes, Locklizard enforces watermarks for both online and offline files – there is no difference in the file status or security.
You distribute watermarked documents just like any other file – via email (outlook, gmail, etc.), google drive, upload them to your web site or a file sharing portal, etc.
Is watermarking for a Google document better than a Word document?
No, both are equally useless because watermarking can be easily removed.
Do users need a separate app to view Locklizard watermarked files?
Yes, users need to download a secure Viewer app or they can view documents in a browser such as Chrome.
Are Google watermarks also visible in Microsoft Word documents?
Yes, but they can just as easily be removed.  Google Docs watermark feature does not provide any security to prevent watermarks being removed from either Google apps or third party ones.
Can I add a confidential stamp in Google?
Yes, a stamp is just another word for an image watermark – see What is PDF stamping or an electronic stamp.
https://www.locklizard.com/wp-content/uploads/2022/10/Google-Docs-watermarks.png
288
479
Ryan Maskell
/wp-content/uploads/2015/02/logo.png
Ryan Maskell
2022-10-28 14:51:51
2023-09-07 16:05:49
Why Google Docs watermarks are not secure