Protected PDF
Creating, Opening & Printing Protected PDF Files
Creating, opening, printing protectedpdf files without passwords
This guide shows you how to create, open, and print protected pdf files using Safeguard PDF Security.
Creating protected pdf files
To create a protected pdf file, right-click on a PDF in Windows File Explorer.

Select 'Make Secure PDF' and choose your protectedPDF settings from the tabbed dialog that is displayed.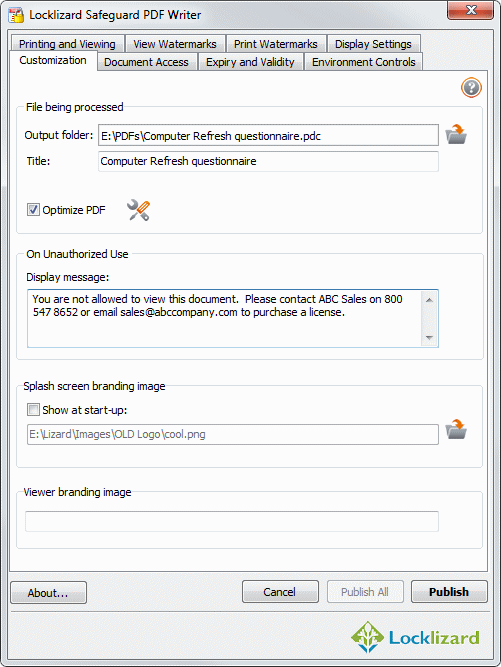 Details on each protectedpdf option be displayed by pressing the 

icon.  Once you have finished choosing your protected pdf options, press the Publish button.  Your PDF file will be protected using the settings you applied and saved as a .PDC file of the same name.  The .PDC file is a DRM protected pdf file which can only be opened in the Locklizard protected pdf viewer (Safeguard Secure PDF Viewer).
Opening protected pdf files
To open protected pdf files you first need to install the Locklizard Secure PDF Viewer and then register your license with the publisher of the protected df files you want to open.  Once you have registered, you just double-click on a protectedpdf file in Windows File Explorer to view it.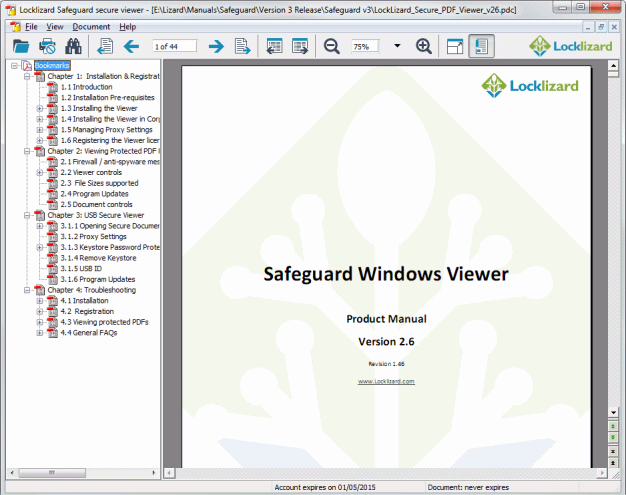 See the section on viewing secure pdf files for more details.
Printing protected pdf files
To print protected pdf files choose the Print option from the File menu or press the 
  icon.
Note that printing protected pdf files may not be possible if the publisher of the document has disallowed this.  If printing protectedpdf files has been denied then the Print option and the Print icon will be greyed-out.
Why does Locklizard use it's own viewer for opening protected pdf files?
We use our own viewer so that:
We don't have to update our viewer every time Adobe does an update
We can prevent JavaScript from running (the number 1 form of malicious attack to users computers)
We can prevent the use of plug-ins that could compromise the security of the system (plug-ins can be programmed for example to copy text or enable printing)
We can control the printing process and prevent print to file or print to PDF drivers from loading
We can control the use of third party screen grabbers
Why does Locklizard not create password protected pdf files?
Locklizard uses public key technology as part of its DRM pdf protection technology.  See our DRM technology.
Locklizard does not create password protectedpdf files because you can easily remove password protected pdf security using a pdf password recovery program.  A password protectedpdf file secured with a user password (used to restrict access to certain functionality) can have restrictions (such as printing, copying, etc.) easily removed using a free password recovery program such as http://www.freemypdf.com/
A password protectedpdf secured with an owner password (this password must be entered to open the PDF file) can have its protection removed using a brute force/dictionary password cracker such as Elcomsoft PDF Password Recovery – http://www.elcomsoft.com/apdfpr.html.  This product will even remove JavaScript protection used by some protectedpdf security products.