Secure Document Sharing
Secure Document Sharing with Document DRM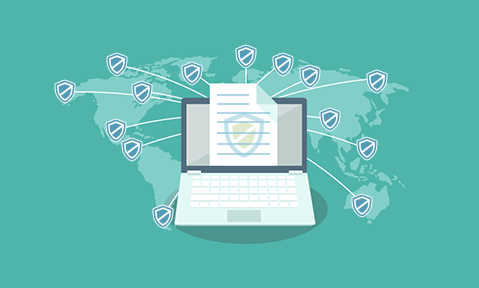 Using Document DRM to ensure secure document sharing
In any organization there is a need to be able to share information across departments, across functions, with resellers and agents, and even with competitors and third parties such as legal advisers.  But the decision about who gets to 'share' information remains with the corporate body, and not with the recipients.
The need to share documents securely requires a very flexible series of DRM controls to support the differing scenarios the organization must be able to support.  Apart from being able to restrict the users who can open a secured document to stop them from being able to pass it on, you may need to restrict the location(s) it can be used in, or you may wish to prevent it from being printed or used after a specific date.  Some users may be allowed to use documents whilst connected to the internal network only.
This is the essential difference between 'collaboration' and 'sharing.'  In collaboration control of document content may be devolved, even to the point where recipients can choose who else may use (and change) secured documents.  In sharing, document content is available to authorised recipients to use, but not to distribute or re-distribute.
In sharing documents, decisions have to be made about who may receive which documents, and where they may use them, and for how long.  It is less usual to allow shared documents to be printed out or otherwise copied.
The introduction of personal tablets into the work place has required a change to controls to make sure that documents that can be used in the workplace cannot be used from other locations, although they must continue to be available from the right location(s).
Locklizard protected PDF documents are able to implement controls such as the range of IP addresses that they may be used on, allowing shared documents to be restricted to corporate networks, as well as requiring the validity of the license to be checked with each use.  Also, controlled documents can have fixed end dates so that stop being available automatically, so stopping access to them does not have to be administered manually.  Of course you can still stop access to DRM controlled documents and publications where users must have their license checked before use.
If you do want users to be able to make printed copies check out the controls that are available for different operating systems.  Since manufacturers have implemented different levels of security for different printing systems you will find that Locklizard controls allow you to set higher controls on the PC platform but only lower controls on Android type platforms where controlling printing is much more problematic.  Generally where controlled shared documents are searchable there is no requirement to allow paper copies to be made.
Secure Document Sharing – Web portal
The introduction of 'the cloud' as part of the Internet of things is a recent re-invention of developments by companies such as Tymshare in the 1970's who introduced networked file and system sharing in an environment that would later be called collaboration.
Locklizard support the cloud access approach to secure PDF documents by providing web based access using the normal browser interface – Safeguard Web Viewer – so it no longer matters where the user is or the device that they are using (as long as it is up to date).  So publishers are able to extend accessibility to their users by publishing their documents to the web.  They can be made accessible to users in logical folders, so users do not have to search piecemeal through the catalog of files available to them.
This does not mean there is a compromise in the security of documents accessed through the browser.  Protected documents are passed, encrypted, to the browser in 'chunks' of 2 or 3 pages and not the whole document in one go.  This makes it more difficult to collect all the pages if someone is doing screen grabbing or attempting to subvert the browser.  Further, only one logged user can use the account at a time, so if a user has had their account compromised (or possibly given the access details away) they will not be able to use their account whenever someone else is using it – which may encourage them to report incidents.
Web portal documents also support all the usual controls supported by Locklizard, including start and end dates, numbers of views, and view watermarking, and can be run on your own intranet as well as begin outside facing as a publicly accessible web site.