Secure Ebook
Secure Ebook: How to Secure ebooks against Piracy / Theft
Secure e-books with Safeguard PDF security
To secure an ebook
In Safeguard Secure PDF Writer, choose the e-book protection options:
Stop printing, allow printing or limit the number of prints.
Stop screen grabbing applications (even from remote connections).
Add dynamic watermarks to viewed and or printed pages.  Dynamic variables replace actual user and system data when the ebook is viewed/printed so you only have to protect the ebook once for all users.
Expire ebooks on a specific date, after a number of views, after a number of prints, or after a number of days from opening.  You might want to do this for example if you intend to sell an e-book at a cut-down price for a limited use period.
Track ebook use – log views and prints.
Lock use to country and IP locations.
Safeguard's default secure ebook protection
Stops users editing, copying and pasting content.
Locks ebooks to specific devices so they cannot be shared with others.
There are no passwords for users to enter, manage, or remove.
Revoke access to e-books at any time regardless of where they reside.
   Secure ebooks: securing digital e-books with DRM security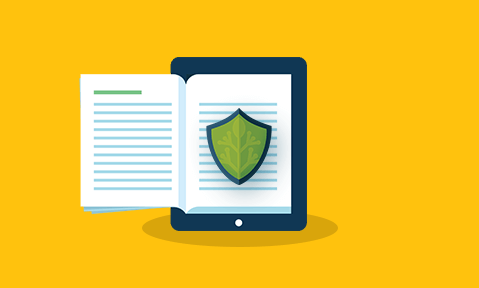 What are secure e-books?
Secure ebooks are digital books (or e-books, if you prefer) that have had security applied to them to prevent them from being easily pirated.
While you cannot prevent someone from retyping your ebook from scratch (just like you cannot prevent someone photocopying a physical book), the whole point of applying security to an ebook is to make copying as difficult as possible so it becomes unattractive to replicate without a lot of expense.
Preventing ebook piracy
Making ebooks secure
Being in a digital format, e-books may contain different forms of information from traditional paper based books.  The print medium is static – fixed text and images.  The digital book may use multimedia in the proper sense – text, pictures, sound, moving pictures, video/film in order to provide its results.  It may also contain links to other resources such as web sites.
So making a secure ebook is not quite so simple.  Because a digital book is able to extend the capability of the traditional book into other dimensions, so the underlying technology required to display the different sections of the book may require different types of security mechanisms if they are to be effective.
This means that the use of multimedia in a digital book requires more security methods and techniques if it is to be a secure ebook.  And this may introduce a certain amount of complexity into the different ways in which secure ebooks can be provided.
Multimedia e-books
Some book formats, such as Adobe PDF, allow you to use one method for a secure ebook, because you are only dealing with one type of format of presentation (generally static files without animation).
But if your digital book uses multiple formats, such as the multiplicity of video formats (mpg, mpeg, wmv, avi, mov, 3gp, mp4 and so on) it may prove difficult to find a simple way of getting you secure digital book, especially when there are so many possible players that might be used.
Many companies migrated their audio and video formats to Adobe flash (FLV and SWF files) because over 97% of all browsers can have the free flash player installed via a plugin.  So it was seen as a convenient solution that was widely supported.  However, flash is not without its problems, and security is definitely one of them (it launches external files that launch a new process with access to its own memory, and hackers have successfully and repeatedly used this approach to gain access to the operating system).  The future for flash now looks bleak – Chrome already has the flash player plugin disabled by default – but it is still supported by the industry since some older browsers do not support HTML5.
One approach to resolving how you obtain a secure ebook is to limit the actual number of presentation formats that you wish to support.  This is not likely to be a simple matter, especially if you are using existing work that has been created following a particular standard.  One current answer would be to convert whatever format has been used to produce the original material into a single common format.  Although not a specific recommendation HTML5 is a good format to use since it supports both audio and video.  It is a common format for both the Mac and Windows platforms, since it is supported by all the common browsers – so users don't need to install any insecure plugins to view video files.
But even if you have converted all your audio and video works to a single format, you need to be confident that the other static formats – text, pictures and so on, can be secured.  So you need to think about stopping screen grabbing and printing, preventing editing and dynamically watermarking content to identify users.  So to provide secure ebooks requires a system that can handle many formats, and provide security against copying and printing where materials are multimedia, pictures and  text.
PDF ebook security
If your ebook is mainly static (so you have links to externally hosted audio and video files rather than them being embedded within the document) then converting to PDF format is often seen as a wise choice.  Why?  Because PDF is the most widely supported document format worldwide and there are numerous applications that will convert ebooks in most formats to PDF files.  It reliably produces the same document appearance in different avoiding the need for customization.
Adobe and other PDF creator software provide a basic level of security for free with PDF password protection.  However it is not very secure because even if a strong password is used to the protect the PDF file, passwords can be shared with others which defeats the objective when selling ebooks and trying to prevent ebook piracy.  Also, PDF restrictions (stopping printing, editing, etc.) can be removed in seconds with freely available password recovery tools.  So clearly PDF password protection is not a way forward for securing ebooks.
A more secure approach is to use public key technology which enables keys to be transparently and securely relayed to a user's device – so there are no keys (passwords) for users to enter or that can be readily attacked and therefore broken by applications.  This is the approach Locklizard use in our PDF DRM software delivering licensing, DRM, and operating system controls to authorize users and control document use.
   Download secure ebook software for securing e-books
Secure Ebooks with Locklizard E-book DRM software
Download secure ebook software to secure ebooks published in PDF format and that does not rely on passwords for security.
Using US Government strength encryption (AES) and digital rights management (DRM) controls to prevent unauthorized use and misuse of your ebooks, you control who can view your secure ebooks, what they can do with them (copy, print, etc.) and when they can no longer be viewed (expire).  Make your ebook secure and protect your revenue stream with Locklizard DRM security.
Read our customer testimonials and case studies to see why thousands of organizations use Locklizard PDF security to securely sell ebooks, prevent ebook piracy and expand their revenue streams.